Salta il contenuto e passa al menu a fondo pagina
You are here:
Home

Staff

List of Personnel

Aglieri Giorgio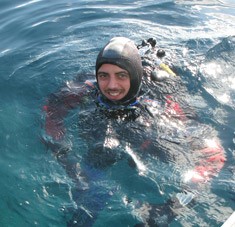 Technologist
Integrative Marine Ecology Department
Stazione Zoologica Anton Dohrn
Lungomare Cristoforo Colombo (complesso Roosevelt)
90142 Palermo - Italia
Tel.: +39 3804395804
E-mail: This email address is being protected from spambots. You need JavaScript enabled to view it.
Contatto Skype: giozucc
Research Interests
The aim of my research is to address ecological issues applying a "from genes to ecosystem" approach.
During my early career years, my research mainly focused on population genetics and molecular taxonomy of marine invertebrates, contributing to disentangle the complex population dynamics of blooming jellyfish, describe new species and revise the taxonomy of other ones. More recently, I got interested in the study of coastal marine biodiversity applying the novel approach of environmental DNA metabarcoding (eDNA), that combines molecular techniques and bioinformatics. The eDNA technique allows to trace the taxonomic composition of marine biological communities by analyzing small DNA fragments shed by the organisms. eDNA promises significant improvements of our ability to study marine biodiversity, especially if wisely supported by traditional methodologies such as visual, video-based and/or acoustic surveys.
I firmly believe that the study of biodiversity constitutes the foundation of ecology. In a context of constant and rapid disruption of the marine ecosystem structure, using innovative and powerful research methodologies may open interesting scenarios also for applied research as resource management and conservation, marine hazard mitigation and ecological restoration and could be pivotal for the transition toward a more sustainable society.
Selected Publications
Aglieri, G., Baillie, C., Mariani, S., Cattano, C., Calò, A., Turco, G., Spatafora, D., Di Franco, A., Di Lorenzo, M., Guidetti, P., Milazzo, M. (2020). Environmental DNA effectively captures functional diversity of coastal fish communities. Molecular Ecology, 30(13), 3127-3139
Boissin, E., Neglia, V., Baksay, S., Micu, D., Bat, L., Topaloglu, B., Todorova V., Panayotova M., Kruschel, C., Milchakova, N., Voutsinas E., Beqiraj, S., Nasto, I., Aglieri G., Taviani, M., Zane, L., Planes, S. (2020). Chaotic genetic structure and past demographic expansion of the invasive gastropod Tritia neritea in its native range, the Mediterranean Sea. Scientific Reports, 10(1), 1-13.
Beli, E., Aglieri, G., Strano, F., Maggioni, D., Telford, M. J., Piraino, S., & Cameron, C. B. (2018). The zoogeography of extant rhabdopleurid hemichordates (Pterobranchia: Graptolithina), with a new species from the Mediterranean Sea. Invertebrate Systematics, 32(1), 100-110.
Paterno, M., Schiavina, M., Aglieri, G., Ben Souissi, J., Boscari, E., Casagrandi, R., ... & Kruschel, C. (2017). Population genomics meet Lagrangian simulations: Oceanographic patterns and long larval duration ensure connectivity among Paracentrotus lividus populations in the Adriatic and Ionian seas. Ecology and Evolution, 7(8), 2463-2479.
Scorrano, S., Aglieri, G., Boero, F., Dawson, M.N., & Piraino, S. (2016). Unmasking Aurelia species in the Mediterranean Sea: an integrative morphometric and molecular approach. Zoological Journal of the Linnean Society, 180(2), 243-267.
Milisenda, G., Martinez-Quintana, A., Fuentes, V. L., Bosch-Belmar, M., Aglieri, G., Boero, F., & Piraino, S. (2016). Reproductive and bloom patterns of Pelagia noctiluca in the Strait of Messina, Italy. Estuarine, Coastal and Shelf Science, 201: 29-39.
Aglieri, G., Papetti, C., Zane, L., Milisenda, G., Boero, F., & Piraino, S. (2014). First evidence of inbreeding, relatedness and chaotic genetic patchiness in the holoplanktonic jelly sh Pelagia noctiluca (Scyphozoa, Cnidaria). PLoS One, 9(6), e99647.
Piraino, S., Aglieri, G., Martell, L., Mazzoldi, C., Melli, V., Milisenda, G., Scorrano, S., & Boero, F. (2014). Pelagia benovici sp. nov.(Cnidaria, Scyphozoa): a new jelly sh in the Mediterranean Sea. Zootaxa, 3794(3), 455-468.
Books
Aglieri G., Di Franco A., Scianna C., Di Lorenzo M., Milisenda G., Lillo F. (2012) Guida alla Natura di Ustica. ISBN-10: 8890761105, versione italiana; ISBN 978-88-907611-1-9, versione inglese; ISBN 978-88-907611-3-3, versione francese.