Salta il contenuto e passa al menu a fondo pagina
You are here:
Home

Staff

List of Personnel

Mirasole Alice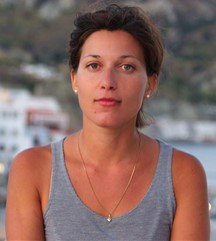 Technician
Integrative Marine Ecology Department
Stazione Zoologica Anton Dohrn
Punta San Pietro s/n
80077 Ischia, Naples - Italy
Tel. +39 081 5833 520
E-mail: alice.mirasole(at)szn.it
Skype: alice.mirasole

Research Interests
Sono una biologa ed ecologa marina e i miei interessi di ricerca riguardano principalmente gli effetti dei cambiamenti ambientali globali (acidificazione oceanica e riscaldamento delle acque) su specie e habitat caratteristici del Mar Mediterraneo. In particolare, la maggior parte delle ricerche a cui ho preso parte si svolge in situ attraverso l'uso di ambienti vulcanici acidificati (vents superficiali di CO2) usati come laboratori naturali per valutare cosa avverrà alle specie e alle comunità (sia bentoniche che ittiche) associate a diversi habitat (es. fanerogame marine, grotte semi-sommerse, coralligeno) nel prossimo futuro.
Durante il mio percorso di studi ho svolto delle ricerche presso i vents delle isole Eolie (Sicilia) dove ho valutato l'organizzazione strutturale e funzionale della comunità ittica associata a fanerogame marine, integrando diversi aspetti dell'ecologia ittica (es.: uso otoliti come traccianti ambientali, valutazione di bioaccumulo e biomagnificazione di metalli in tracce, uso degli isotopi stabili per ricostruire le reti trofiche).
Attualmente, la maggior parte del lavoro si svolge in campo presso l'isola di Ischia (Napoli). Qui mi occupo del posizionamento di sensori in situ ad alta precisione e in continuo per la raccolta di dati abiotici (pH, temperatura, luce), della raccolta di dati in mare tramite diverse tecniche in immersione subacquea (sia su comunità bentoniche che ittiche), e anche di prelievo di campioni di acqua per l'analisi del sistema carbonatico in laboratorio. Sono principalmente interessata a capire come cambierà la diversità, sia strutturale che funzionale, delle comunità esposte a crescenti livelli di acidificazione e di temperatura previsti per i prossimi decenni.
Selected Publications
Mirasole A, Gillanders BG, Reis-Santos P, Grassa F, Capasso G, Scopelliti G, Mazzola A, Vizzini S (2017) The influence of high pCO2 on otolith shape, chemical and carbon isotope composition of six coastal fish species in a Mediterranean shallow CO2 vent. Marine Biology. 164(9), 191. DOI: 10.1007/s00227-017-3221-y.
Mirasole A, Signa G, Gianguzza P, Bonaviri C, Mazzola A, Vizzini S (2019) Fish assemblages cope with ocean acidification in a shallow volcanic CO2 vent benefiting from an adjacent recovery area. Marine Environmental Research. DOI: 10.1016/j.marenvres.2019.104851.
Tanner S, Giacomello E, Menezes G, Mirasole A, Neves J, Sequeira V, Vasconcelos R, Vieira AN, Morrongiello J. (2020) Marine regime shifts impact spatial synchrony of deep-sea fish growth in the Northeast Atlantic. Oikos. DOI: 10.1111/oik.07332.
Teixidó N, Caroselli E, Alliouane S, Ceccarelli C, Comeau S, Gattuso J-P, Fici P, Micheli F, Mirasole A, Monismith S.G, Munari M, Palumbi S, Sheets E, Urbini L, de Vittor C, Goffredo S, Gambi MC. (2020) Ocean acidification causes unexpected trait shifts in a coral species. Global Change Biology. https://doi.org/10.1111/gcb.15372
Mirasole A, Scopelliti G, Tramati C, Signa G, Mazzola A, Vizzini S. (2020) Evidences on alterations in skeleton composition and mineralization in a site-attached fish under naturally acidified conditions in a shallow CO2 vent. Science of the Total Environment. 143309. DOI: https://doi.org/10.1016/j.scitotenv.2020.
Mirasole A, Badalamenti F, Di Franco A, Gambi MC, Teixido N. (2021) Boosted fish abundance associated with Posidonia oceanica meadows in temperate shallow CO2 vents. Science of the Total Environment. 145438. https://doi.org/10.1016/j.scitotenv.2021.145438.
Carbonne C, Teixido N, Moore B, Mirasole A, Guttierez T, Gattuso JP, Comeau S (2021) Two temperate corals are tolerant to low pH regardless of previous exposure to natural CO2 vents. Limnol. Oceanogr. In press