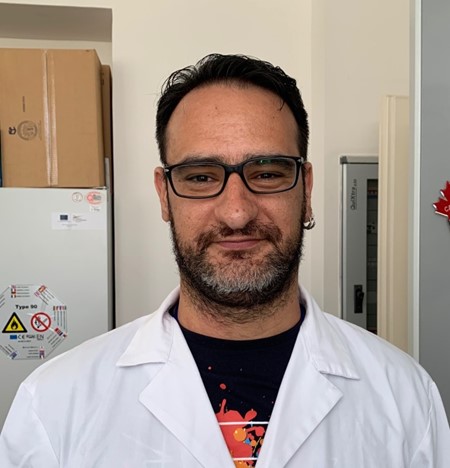 Research Fellow
Marine Biotechnology Department
Tel.: +39 081 5833221
E-mail: gennaro.riccio(at)szn.it
Contatto Skype: gennaro.riccio
Supervisor: Chiara Lauritano
Appointed on project: ADVISE

Research Interests
My expertise is in biochemistry and cellular and molecular biology. My research interests focus on development and characterization of novel molecules (antibodies, recombinant proteins, organic compounds and nutraceuticals) for therapeutic use. I studied their mechanism of action and potential side effects. Moreover, I contributed to the development of the patent "Fusion protein comprising three binding domains to her2" with the biopharmaceutical company Biotecnol SA (http://www.biotecnol.com/). I am currently studying bioactivity and enzymatic pathway in microalgae producing secondary metabolites with pharmaceutical potential within the framework of the national project PON ADVICE.
Selected Publications
Riccio G., Esposito G., Leoncni E., Contu R., Condorelli G., Chiariello M., Laccetti P., Hrelia S, D'Alessio G., De Lorenzo C. "Cardiotoxic effects, or lack thereof, of anti-ErbB2 immunoagents" FASEB J 2009 Sep; 23(9):3171-1378.
Fedele C, Riccio G, Coppola C, Barbieri A, Monti MG,Arra C, Tocchetti CG, D'Alessio G, Maurea N, De Lorenzo C. Comparison of preclinical cardiotoxic effects of different ErbB2 inhibitors. Breast Cancer Res Treat. 2012 Jun;133(2):511-521. PMID:21947749
Fedele C, Riccio G, Malara AE, D'Alessio G, De Lorenzo C. Mechanisms of cardiotoxicity associated with ErbB2 inhibitors. Breast Cancer Res Treat. 2012 Jul;134(2):595-602
Paciello R, Urbanowicz RA, Riccio G, Sasso E, Zambrano N, Ball JK, Cortese R, Nicosia A, De Lorenzo C. "Novel Human Anti-Claudin 1 Monoclonal Antibodies Inhibit HCV Infection and Synergize with Anti-SRB1 mAb" journal of general virology 2016 Jan;97(1):82-94.
Riccio G, Da Fonseca-Ricardo AR, Passariello M, Cunnah P, Mertens N, De Lorenzo C Superior Suppression of ErbB2-positive Tumor Cells by a Novel Human Triparatopic Tribody. J Immunother. 2017 Jan 25. doi: 10.1097/CJI.0000000000000152
Riccio G, Maisto M, Bottone S, Badolati N, Rossi GB, Tenore GC, Stornaiuolo M, and Novellino E. WNT Inhibitory Activity of Malus Pumila Miller cv Annurca and Malus Domestica cv Limoncella Apple Extracts on Human Colon-Rectal Cells Carrying Familial Adenomatous Polyposis Mutations. Nutrients. 2017 Nov 18;9(11). pii: E1262. doi: 10.3390/nu9111262
Riccio G, Bottone S, La Regina G, Badolati N, Passacantilli S, Rossi GB, Accardo A, Dentice M, Silvestri R, Novellino E, Stornaiuolo M. A negative allosteric modulator of the WNT receptor Frizzled 4 switches into an allosteric agonist. Biochemistry. 2018 Feb 6;57(5):839-851. doi: 10.1021/acs.biochem.7b01087 doi: 10.1021/acs.biochem.7b01087.
Riccio G, Da Fonseca-Ricardo AR, Passariello M, Saraiva K, Rubino V, Cunnah P, Mertens N, De Lorenzo C. T cell activating Tribodies as a novel approach for efficient killing of ErbB2-positive cancer cells. Journal of Immunotherapy 2019 Jan;42(1):1-10. doi: 10.1097/CJI.0000000000000248
Lauritano C, Helland K, Riccio G, Andersen JH, Ianora A, Hansen EH. Lysophosphatidylcholines and Chlorophyll-Derived Molecules from the Diatom Cylindrotheca closterium with Anti-Inflammatory Activity Mar. Drugs 2020, 18(3), 166; https://doi.org/10.3390/md18030166
Riccio G, Lauritano C. Microalgae with Immunomodulatory Activities. Mar Drugs 2020, 18(1), 2 https://doi.org/10.3390/md18010002