Salta il contenuto e passa al menu a fondo pagina
You are here:
Home

Staff

List of Personnel

Buschi Emanuela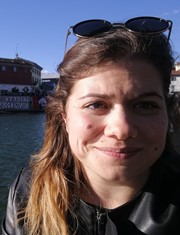 Ph. D. Student
Biology and Evolution of Marine Organisms Department
Tel: +39 081 5833228 (SZN) ; +39 071 2204177 (UNIVPM)
e-mail: This email address is being protected from spambots. You need JavaScript enabled to view it.; This email address is being protected from spambots. You need JavaScript enabled to view it.
skype : emanuela.buschi
Ph. D. Affiliation: XXXII cicle of UNIVPM PhD program (Italian Universities PhD program)
SZN Supervisor: Sergio Stefanni
UNIVPM Supervisor: Antonio Dell'Anno

Research Interests
Associations between microbes and marine invertebrates play an important role in influencing host nutrition, health and function in the ecosystem. These associations become of fundamental interest in environments defined "extreme" (polar ecosystems, deep-sea, hydrothermal vents...), in which the limiting conditions make them ideal laboratories to explore the adaptation strategies that these associations adopt to survive and to understand the biotechnological potential for uman life. Despite the numerous studies conducted on these associations in temperate and tropical ecosystems, few have been carried out in extreme ecosystems and many questions on diversity, the ecological role and the co-evolutionary processes of the microbiome and their hosts are still open. In this contest is located my PhD project with the aim of studying the diversity and functions of microbial communities (bacteria, archaea and eukaryotes, such as fungi) associated with different marine benthic invertebrates; evaluating the influence of environmental factors (depth, trophic conditions, latitude) on the taxonomic composition of these associations and on the potential selection of a specific microbiome; exploring the origin of microbes associated with benthic invertebrates by comparing their taxonomic composition and the functions with these of the surrounding sediments; identifyng the nature of the interactions (e.g., symbiosis vs. parasitism) and the potential co-evolution relationships between microbiome and invertebrates.
Selected Publications
Ravaglioli, C., Lardicci, C., Pusceddu, A., Arpe, E., Bianchelli, S., Buschi, E., Bulleri, F. Ocean acidification alters meiobenthic assemblage composition and organic matter degradation rates in seagrass sediments. Limnology and Oceanography 00 (2019) 1–14.
Corinaldesi, C., Tangherlini, M., Rastelli E., Buschi, E., Lo Martire, M., Danovaro R., Dell'Anno, A. High diversity of benthic bacterial and archaeal assemblages in deep-Mediterranean canyons and adjacent slopes. Progress in Oceanography 171 (2019) 154–161.
Bianchelli, S., Buschi, E., Danovaro, R., Pusceddu, A. Nematode biodiversity and benthic trophic state are simple tools for the assessment of the environmental quality in coastal marine ecosystems. Ecological Indicators 95 (2018) 270–287.
Gribben P.E.; Thomas T.; Pusceddu A.; Bonechi L.; Bianchelli S.; Buschi E.; Nielsen S.; Ravaglioli C.; Bulleri F. Below‐ground processes control the success of an invasive seaweed. Journal of Ecology. 2018. https://doi.org/10.1111/1365-2745.12966.
Bianchelli, S., Buschi, E., Pusceddu, A., Danovaro, R. Biodiversity loss and turnover in alternative states in the Mediterranean Sea: a case study on meiofauna. Scientific Report volume 6, Article number: 34544 (2016) doi:10.1038/srep34544.
Bianchelli, S., Pusceddu, A., Buschi, E., Danovaro, R. Trophic status and meiofauna biodiversity in the Northern Adriatic Sea: insights for the assessment of good environmental status. Marine Environmental Research 113 (2016) 18-30 doi:10.1016/j.marenvres.2015.10.010.