Salta il contenuto e passa al menu a fondo pagina
You are here:
Home

Staff

List of Personnel

Murano Carola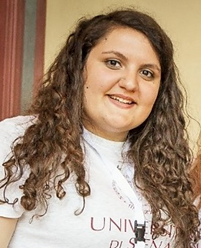 Research Fellowship
Biology and Evolution of Marine Organisms
Tel.: +39 081 5833276
Fax: +39 081 7641355
E-mail: This email address is being protected from spambots. You need JavaScript enabled to view it.; This email address is being protected from spambots. You need JavaScript enabled to view it.
Contatto Skype: carola.murano_1
Research Interests
My research activity is based on ecotoxicological studies of emerging pollutants and their effects on marine organisms. In particular, my PhD research project concerns the study of the potential effects of both micro and nanoplastics on the bioindicator Paracentrotus lividus. My interest is to highlight the mechanisms of their uptake, toxicity and interaction at different levels of organization in adult sea urchin through in vivo and in vitro experiments. My attention is mainly focused on the interaction of micro and nanoplastics with the immune cells, the celomocytes, which are considered to be the sentinels of environmental stress. The oxidative and nitrosative stress status of the celomocytes is evaluated by biochemical assays, molecular biology and proteomic techniques that allow to identify the biochemical pathways involved in the sea urchin response to these emerging contaminants. The interest is also addressed to the activity of ABC transporters (ATP-binding cassette), which are an integral part of the xenobiotic resistance system known as multixenobiotic resistance (MXR). Another important aspect of this study is the formation process of the "protein-corona", a dynamic process through which nanoparticles are coated with proteins when are in contact with biological fluids, affecting not only nanoparticles behaviour but also proteins properties.