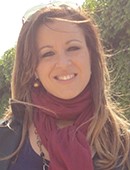 Technologist
Grant Innovation Office
Tel. 0815833366
Email: ornella.papaluca(at)szn.it
Curriculum Vitae




Research interests
She graduated in Business Administration in 2008 and in 2011 she got a PhD in Tourism Management – Business Administration at the University of Naples Federico II, defending a thesis on "The Relationship between Coordination And resource system in sustainable tourism products: a study through the Multiple Case Study"
Her main areas of interest are: Innovation, Technology transfer, business start up, Social Network Analysis, Sustainable Development and Tourism Management. She has worked with the Chamber of Commerce of Naples in the project "Crescere Imprenditori", supporting startuppers in defining their business idea and in realizing their business plan.
Her current research activities are focused on the analysis, development and testing of a model to enhance marketing of the Stazione Zoologica Anton Dohrn research products for the Grant Innovation Office.
Main Publications
Papaluca, O., Tani, M. (2016). An integrated approach of Innovations for sustainability: first evidences from some enterprises in Campania. Organizational Networksfor Innovations, 251.
Papaluca, O., Tani, M. (2016). Entrepreneurs' Experiences, Motivations, and Sustainability of Tourism. In Tourism Management, Marketing, and Development (pp. 239-258). Palgrave Macmillan US.
Tani, M., Papaluca, O. (2015). Local Resources to Compete in the Global Business: The Case of Sextantio Hotels. In Handbook of Research on Global Hospitality and Tourism Management (pp. 119-141). IGI Global.
Tani, M., Papaluca, O. (2014). Internal and external pressures on system embeddedness: some evidences from sustainable and responsible tourism projects. ADVANCES IN BUSINESS MANAGEMENT. Towards Systemic Approach, 253.
Sciarelli, M., Tani, M. e Papaluca, O. (2012). Reti sociali e impatto degli stakeholder sull'innovazione sociale: un'analisi degli egonetwork di alcune imprese sociali. In Catturi G., Cavazzoni G. (Eds.). Aziende di servizi e servizi per le aziende. La ricerca di un percorso di sviluppo sostenibile per superare la crisi. Il Mulino, Bologna, pp. 541 - 561