Salta il contenuto e passa al menu a fondo pagina
You are here:
Home

Staff

List of Personnel

Trano Anna Chiara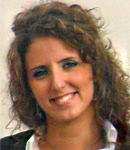 Post Doc
Section EMI
Tel. +39 081 5833255 - +39 081 5833340
Fax: +39 081 7641355
e-mail annachiara.trano(at)szn.it
Journal Papers
Balestra C., Trano A.C., Casotti R. (2013) "Distribution and composition of natural bacterial community at a Long Term Ecological Research Station (LTER) in the Gulf of Naples". XXXI Conferenza Nazionale di Citometria CYTOMETRY PART A 83A: DOI: 10.1002/cyto.a.22412.