Salta il contenuto e passa al menu a fondo pagina
You are here:
Home

Staff

List of Personnel

Toscano Alfonso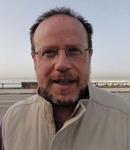 Technologist
Marine Animal Conservation and Public Engagement Department
Tel. +39 081 5833267
Fax: +39 081 7641355
e-mail alfonso.toscano(at)szn.it

Research interests
My career began in the team of the public Aquarium of the Zoological Station of Naples (SZN), as a trainee in aquariology. This work-environment introduced me to a wide variety of Mediterranean marine organisms, and allowed me to learn about their biology, about how to identify them, and about techniques for maintaining and breeding them in captivity.
The experience gained in the design and maintenance of marine systems has led me in 1996 to collaborate on the development and organization of a facility for the breeding of marine organisms of scientific interest. In 2000, SZN established the "Servizio Allevamento Organismi Marini per la Ricerca" for the maintenance and breeding of marine animal models used in SZN laboratories, and I coordinated this service from 2000 until 2010. From 2012 to 2015, I coordinated the Technical Office of the SZN.
My current interests and activities include maintaining and breeding of marine organisms used as animal model for research and implementation of technological support systems for aquaria and mesocosms (LSS).
Selected Publications
Toscano, A. and Cirino P. (2018) First Evidence of Artificial Fission in two Mediterranean Species of Holothurians: Holothuria tubulosa and Holothuria polii. Turk. J. Fish. & Aquat. Sci. DOI: 10.4194/1303-2712-v18_10_01
Manzo S., Schiavo S., Oliviero M, Toscano A., Ciaravolo M., Cirino P. (2017) Immune and reproductive system impairment in adult sea urchin exposed to nanosized ZnO via food. Science of the Total Environment 599-600, 9-13 https://doi.org/10.1016/j.scitotenv.2017.04.173.
Cirino P. , Brunet C. , Ciaravolo M., Galasso C., Musco L., Vega Fernández T., Sansone C. and Toscano A. (2017) The sea urchin Arbacia lixula: A novel natural source of astaxanthin. Marine Drugs, 15(6), 187; doi:10.3390/md15060187
Cirino P., Ciaravolo M., Paglialonga A., Toscano A. (2017) Long-term maintenance of the sea urchin Paracentrotus lividus in culture. Aquaculture Reports (7), 27-33
https://doi.org/10.1016/j.aqrep.2017.04.003
Manfra L., De Nicola E., Maggi C., Zambianchi E., Caramiello D., Toscano A., Cianelli D. and Cicero A. (2010). Exposure of rotifers, crustaceans and sea urchins to produced formation waters and seawaters in the Mediterranean Sea. Journal of the Marine Biological Association of the United Kingdom, Volume 91 / Issue 01 / February2011,pp.155-161,Doi: 10.1017/S0025315410001037.
Websites or online articles
Cirino P, Toscano A., (2012). Fertilization in Paracentrotus lividus. In: ASSEMBLE virtual tool box protocols www.assemblemarine.org.

Cirino P, Toscano A., (2012). Spawning of gametes in Paracentrotus lividus. In: ASSEMBLE virtual tool box protocols www.assemblemarine.org.

Cirino P, Toscano A, Caramiello D, Macina A, Miraglia V, Monte A (2002). Laboratory culture of the ascidian Cionaintestinalis(L.): a model system for molecular developmental biology research. Mar. Mod. Elec. Rec. [serial online Biological Bulletin, ISSN: 1939-8697].
Book chapters
Toscano A., Cirino P., (2010). Allevamento di stadi larvali di riccio di mare. Metodologie di studio del Plancton marino. Manuali e Linee guida ISPRA/SIBM Vol. 56 (cap.50): 601-608. ISBN 978-88-448-0427-5
Awards
Cirino P, Ciaravolo M, Paglialonga A, Toscano A, (2011). A long-term laboratory maintenance system for promoting out-of-season maturation in the sea urchin Paracentrotus lividus (Lamarck, 1816). In: AE2011 Mediterranean Aquaculture 2020 (Best Poster Award).