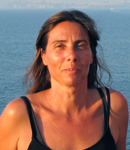 Post Doc
Section EMI
Tel. +39 081 5833514
Fax: +39 081 984201
E-mail: nuria.teixido(at)szn.it
Research interests
My research addresses several questions at the interface between marine ecology and conservation. My scientific interests focus on marine ecology, biodiversity, and conservation in marine benthic habitats. I have studied different benthic habitats, primarily rocky reef ecosystems mainly in Antarctica and in the Mediterranean Sea.
I merge complementary approaches, such as field surveys on natural ecosystems and controlled laboratory experiments, with statistical methods to synthesize and interpret data. Most recently, I have focused on the study of the effects of ocean acidification on ecosystems by using natural laboratories, represented by new CO2 vent's systems recently discovered along the coast of Ischia, Italy. This scientific work is now conducted jointly in Micheli and Palumbi labs at Hopkins Marine Station and in Maria Cristina Gambi's group at the Villa Dohrn-Benthic Ecology Center in Ischia.
My current research on ocean acidification is sponsored by a Marie Sklodowska-Curie Action under the European Research Program H2020 with the project Future4Oceans (H2020-MSCA-IF-2015, N 702628) to be done jointly between Stazione Zoologica Anton Dohrn, Naples, Italy and Hopkins Marine Station of Stanford University for 3 years. In addition, a parallel project named High-CO2 Seas, funded by the Total Foundation and including 7 partner institutions from the USA and Europe, will complement the Future4Oceans project.
Selected Publications
Garrabou J, Sala E, Linares C, Ledoux JB, Montero I, Dominici JM, Kipson S, Teixidó N, Cebrian E, Kersting DK, Harmelin JG
. Re‐shifting the ecological baseline for overexploited Mediterranean red coral.
Scientific Reports
,
in press
.
Casas-Güell E, Cebrian E, Garrabou J, Ledoux JB, Linares C, Teixidó N (2016). Structure and biodiversity of coralligenous assemblages dominated by the precios red coral Corallium rubrum over broad spatial scales. Scientific Reports 6, Article number: 36535, doi:10.1038/srep36535
Ambroso S, Böhmer A, Gonzalez-López P, Teixidó N (2016) Ophiuroid biodiversity patterns along the Antarctic Peninsula. Polar Biology 39(5): 881-895
Kersting D, Cebrian E, Casado C, Teixidó N, Garrabou J, Linares C (2015). Experimental evidence of the synergistic effects of warming and invasive algae on a temperate reef-builder coral. Scientific Reports 5:18635.
Linares C, Vidal M, Canals M, Kersting DK, Amblás D, Aspillaga E, Cebrián E, Delgado-Huertas A, Díaz D, Garrabou G, Hereu B, Navarro L, Teixidó N, Ballesteros K (2015). Persistent acidification drives dramatic seascape shifts at mesophotic depths. Proceedings Royal Society B, DOI: 10.1098/rspb.2015.0587.
Teixidó N, Casas E, Cebrián E, Linares E, Garrabou J (2013). Impacts on coralligenous outcrop biodiversity of a dramatic coastal storm. PLoS ONE 8(1): e53742. doi:10.1371/journal.pone.0053742. Leggi
Websites
Mediversa project http://meddiversa.medrecover.org/ and film-documentary http://youtu.be/fk7ud0xWe5A
MedRecover Research Group http://www.medrecover.org/en
Seascape software: Segmentation and Cover Classification Analyses of Seabed Images http://seascapesoft.org/
Databases and repositories
Underwater photographs from Antarctic expeditions (http://doi.pangaea.de/10.1594/PANGAEA.755491)
and Meditteranean littoral
(http://www.pangaea.de/PHP/Benthos.php?B=MedChange&C=Medes&S=A1E&ID=633559) surveys are published in the Open access library for Earth and Environment Science Pangaea (http://www.pangaea.de/)
Coralligenous species database: http://corspecies.medrecover.org/