Salta il contenuto e passa al menu a fondo pagina
You are here:
Home

Staff

List of Personnel

Sordino Paolo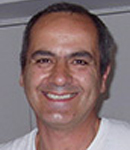 Senior Scientist
Biology and Evolution of Marine Organisms Department
Sicily Marine Centre
Via Consolare Pompea 29
00198 Messina – Italia
Tel.: +39 081 5833283; +39 081 5833277
e-mail paolo.sordino(at)szn.it
Skype: paolosordino
Google scholar: https://scholar.google.it/citations?hl=it&user=uzcS6ZcAAAAJ
ERC sectors - Embryogenesis, pattern formation, morphogenesis (LS3_8), Innate immunity (LS6_1)
Settori scientifico-disciplinari - Anatomia comparata e citologia (BIO/06), Biologia applicata (BIO/13)
Research Interests
I am interested in exploring the interactions among ecological, evolutionary and developmental processes in tunicates and vertebrates by means of molecular, cellular and genetic tools combined with field studies. My research includes investigations on nervous system, immune systems and mitochondrial genomes. Innate immunity is the only immune defense possessed by invertebrates. Here, tunicates are used for studying basic structure (cell types and genes) and mechanisms (inflammatory response to environmental stressors, host-microbiome interactions) of innate immunity and to develop a novel pharmacological model system for the isolation of new bioactive compounds. Endocannabinoids are lipid-derived neuromodulators in nervous system development and synaptic plasticity. We use both zebrafish and tunicate ascidians for studying genomic structure, expression profiles and roles in visual system development. Mitochondrial phylogenomics is used to gain taxonomic insights in the commercially valuable fish family Sparidae (seabreams) and to develop effective anti-fraud barcode markers.
Selected Publications
Osca, D., Caputi, L., Tanduo, V., Sepe, R.M., Liberti, A., Tiralongo, F., Venuti, I., Ceruso, M., Crocetta, F., Sordino, P., & Pepe, T. (2022). The complete mitochondrial genome of the zebra seabream Diplodus cervinus (Perciformes, Sparidae) from the Mediterranean Sea. Mitochondrial DNA Part B, 7(11), 2006-2008.
Fasano, G., Godoy, R.S., Angiulli, E., Consalvo, A., Franco, C., Mancini, M., Santucci, D., Alleva, E., Ciavardelli, D., Toni, M., Biffali, E., Ekker, M., Canzoniero, L.M.T., & Sordino, P. (2021). Effects of low-dose methylcyclopentadienyl manganese tricarbonyl-derived manganese on the development of diencephalic dopaminergic neurons in zebrafish. Environmental Pollution, 287, 117151.
Liberti, A., Natarajan, O., Atkinson, C.G.F., Sordino, P., & Dishaw, L. J. (2021). Reflections on the use of an invertebrate chordate model system for studies of gut microbial immune interactions. Frontiers in immunology, 12, 246.
Woltering, J.M., Irisarri, I., Ericsson, R., Joss, J.M., Sordino, P., & Meyer, A. (2020). Sarcopterygian fin ontogeny elucidates the origin of hands with digits. Science Advances, 6(34), eabc3510.
Sordino, P., D'Aniello, S., Pelletier, E., Wincker, P., Nittoli, V., Stemmann, L., Mazzocchi, M.G., Lombard, F., Iudicone, D., & Caputi, L. (2020). Into the bloom: molecular response of pelagic tunicates to fluctuating food availability. Molecular Ecology, 29(2), 292-307.
Foto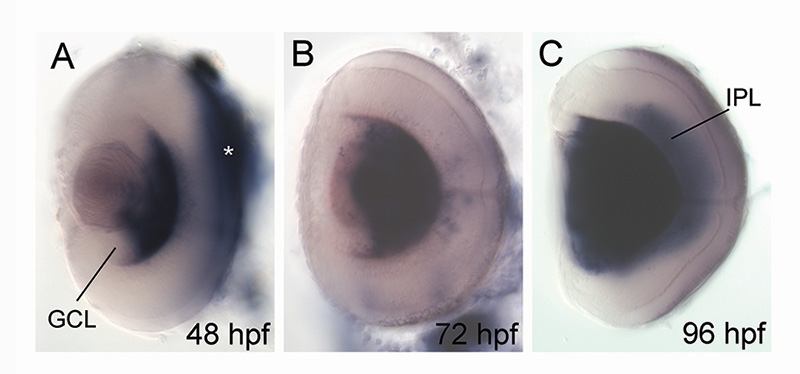 Estensione dell'espressione del gene BDNF dallo strato delle cellule gangliari verso lo strato plessiforme interno della retina di zebrafish (Foto di E. De Felice).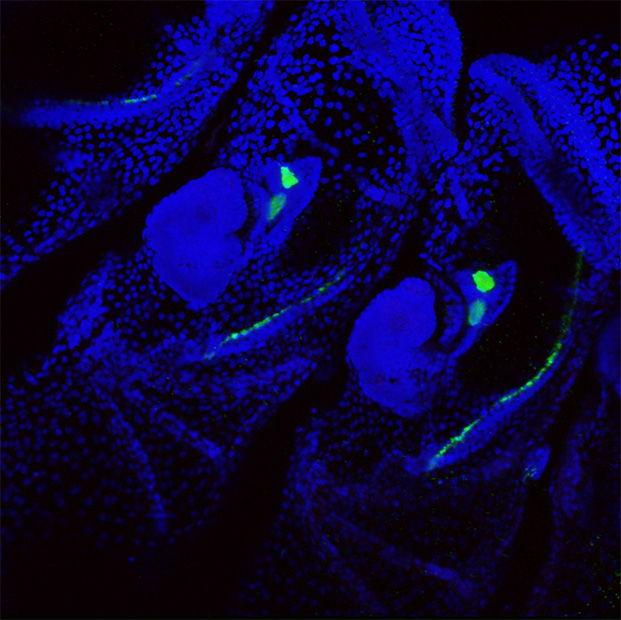 L'immunoreattività per la tubulina acetilata rivela alcuni aspetti del sistema nervoso centrale e periferico dei blastozooidi della salpa Thalia democratica (Tunicata, Thaliacea) (Foto di R. Marino).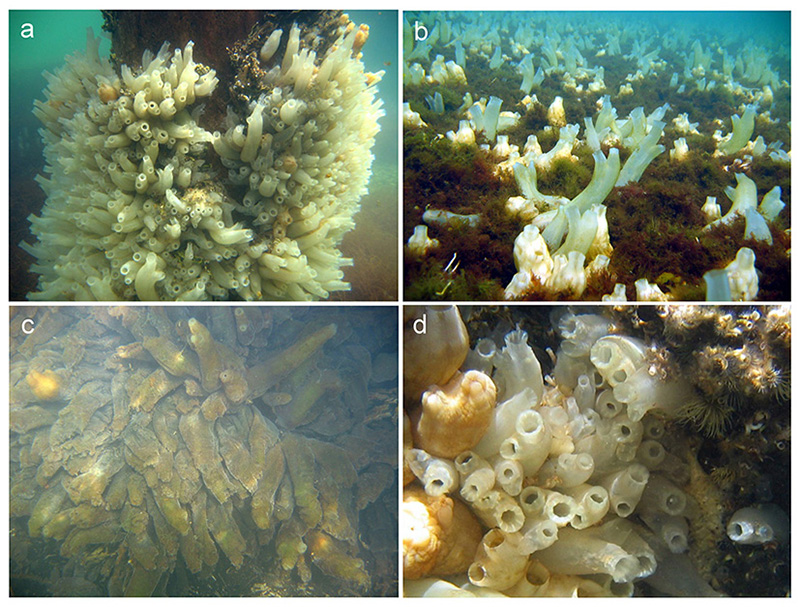 Popolazioni naturali dell'ascidia Ciona intestinalis in siti e stagioni diverse del lago Fusaro (Foto di F. Toscano).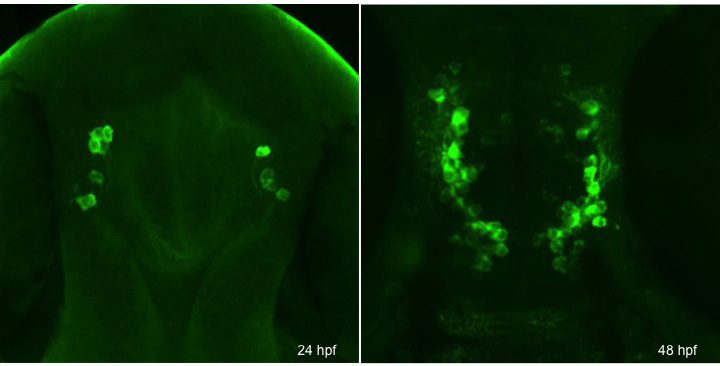 Lo sviluppo dei neuroni dopaminergici nel diencefalo degli embrioni di zebrafish (Foto di G. Fasano).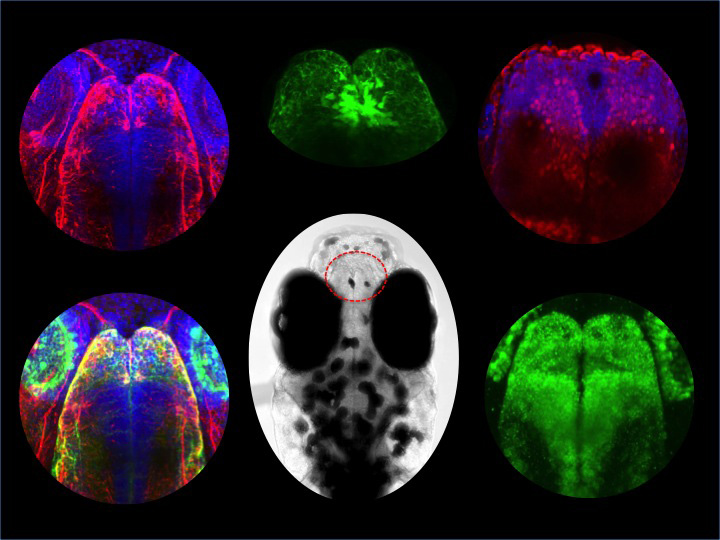 La risposta infiammatoria nel telencefalo embrionale di zebrafish indotta mediante il blocco dei canali del GABA coinvolge l'attivazione di astrociti, glia e processi apoptotici (Foto di V. Nittoli).