Salta il contenuto e passa al menu a fondo pagina
You are here:
Home

Staff

List of Personnel

Pepi Milva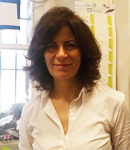 Researcher
RIMAR Department MEDA Unit
Tel. +39 081 5833357
Fax: +39 081 7641355
e-mail milva.pepi(at)szn.it

Research interests
Marine coastal environment monitoring, mainly from the microbiological point of view. Study of biogeochemical cycles in contaminated coastal areas. Isolation and characterization of microorganisms involved in transformation of forms of arsenic and in polycyclic aromatic hydrocarbons degradation.
The role of Postdoc in the project is to contribute to the design and realization of the monitoring sites, also proposing new indicators of water quality. She is also involved in communication and dissemination activities.
Publications
Pepi M, Focardi S, Lobianco A, Angelini DL, Borghini F, Focardi SE. (2013). Oleic acid degradation and biosurfactant production by a bacterial strain Pseudomonas aeruginosa DG2a isolated from aquaculture wastewaters. Wat. Air Soil Pollut. 224: 1772

Pepi M, Cappelli S, Hachicho H, Perra G, Renzi M, Tarabelli A, Altieri R, Esposito A, Focardi SE, Heipieper HJ. (2013). Klebsiella sp. strain C2A isolated from olive oil mill waste is able to tolerate and degrade tannic acid in very high concentrations. FEMS Microbiol. Lett. 343: 105-112.

Focardi S, Pepi M, Landi G, Gasperini S, Ruta M, Di Biasio P, Focardi SE. (2012). Hexavalent chromium reduction by whole cells and cell free extract of the moderate halophilic bacterial strain Halomonas aquamarina TA-04. Int. Biodeter. Biodegrad. 66: 63-70

Pepi M, Gaggi C, Bernardini E, Focardi S, Lobianco A, Ruta M, Nicolardi V, Volterrani M, Gasperini S, Trinchera G, Renzi P, Gabellini M, Focardi SE. (2011). Mercury-resistant bacterial strains Pseudomonas and Psychrobacter spp. isolated from sediments of Orbetello Lagoon (Italy) and their possible use in bioremediation processes. Int. Biodeter. Biodegr. 65: 85-91

Focardi S, Pepi M, Ruta M, Marvasi M, Bernardini E, Gasperini S, Focardi SE. (2010). Arsenic precipitation by an anaerobic arsenic-respiring bacterial strain isolated from polluted sediments of the Orbetello Lagoon, Italy. Lett. Appl. Microbiol. 51: 578-585

Pepi M, Lampariello LR, Altieri R, Esposito A, Perra G, Renzi M, Lobianco A, Feola A, Gasperini S, Focardi SE. (2010). Tannic acid degradation by bacterial strains Serratia spp. and Pantoea sp. isolated from olive mill waste mixtures. Int. Biodeterior. Biodegrad. 64: 73-80

Pepi M, Lobianco A, Renzi M, Perra G, Marvasi M, Bernardini E, Gasperini S, Volterrani M, Franchi E, HeipieperHJ, Focardi SE. (2009). Two naphthalene degrading bacteria belonging to the genera Paenibacillus and Pseudomonas isolated form a highly polluted lagoon perform different sensitivities to the organic and heavy metal contaminants. Extremophiles 13: 839-848.

Pepi M, Heipieper HJ, Fischer J, Ruta M, Volterrani M, Focardi SE. (2008). Membrane fatty acids adaptive profile in the simultaneous presence of arsenic and toluene in Bacillus sp. ORAs2 and Pseudomonas sp. ORAs5 strains. Extremophiles 12: 343-349

Pepi M, Volterrani M, Renzi M, Marvasi M, Gasperini S, Franchi E, Focardi SE. (2007). Arsenic-resistant bacteria isolated from contaminated sediments of the Orbetello Lagoon, Italy, and their characterization. J. Appl. Microbiol. 103: 2299-2308

Pepi M, Cesàro A, Liut G, Baldi F. (2005). An antarctic psychrotrophic bacterium Halomonas sp. ANT-3b, growing on n-hexadecane, produces a new emulsifying glycolipid. FEMS Microbiol. Ecol. 53: 157-166