Salta il contenuto e passa al menu a fondo pagina
You are here:
Home

Staff

List of Personnel

Orefice Ida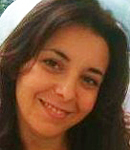 Researcher
Marine Biotechnology Department
Tel. +39 081 5833243
Fax: +39 081 7641355
e-mail ida.orefice(at)szn.it
Research interests
Among the actual challenges of the blue biotechnology, there is the need of increasing the efficiency of biomass production and bioactive molecules synthesis from microalgae. Among the valuable products produced by these organisms, carotenoids have many applicative purposes, such as food additives, thanks to their antioxidant activities.
The overall objective of my project is the enhancement of carotenoid biosynthesis by diatoms in culture, maintaining as high as possible the photosynthetic and growth rates. The aim of my studies is to investigate the effect of light manipulation, inducing photosynthetic acclimation/regulation by microalgae for enhancing carotenoid production. To achieve these goals different approaches are used, such as ecophysiological, molecular, biochemical and metatranscriptomic studies.
Selected Publications
Chandrasekaran R, Barra L, Carillo S, Caruso T, Corsaro MM, Dal Piaz F, Graziani G, Corato F, Pepe D, Manfredonia A, Orefice I, Ruban AV, Brunet C. (2014). Light modulation of biomass and macromolecular composition of the diatom Skeletonema marinoi. J Biotechnol., 192:114-122

Lauritano C, Orefice I, Procaccini G, Romano G, Ianora A. (2015). Key genes as stress indicators in the ubiquitous diatom Skeletonema marinoi. BMC Genomics, doi: 10.1186/s12864-015-1574-5

Orefice I, Lauritano C, Procaccini G, Ianora A, Romano G. (2015). Insights into possible cell-death markers in the diatom Skeletonema marinoi in response to senescence and silica starvation. Mar Genomics, doi:10.1016/j.margen.2015.06.008

Abstracts in international congresses
Orefice I, Tedesco P, De Santi C, de Pascale D, Ianora A, Romano G. Lipoxygenase enzymes and oxylipin production in marine diatoms. Marine Microbiology & Biotechnology: Biodiscovery, Biodiversity and Bioremediation Conference. November 14th-16th Novembre 2012 - Cork (Ireland)

Orefice I, Lauritano C, Procaccini G, d'Ippolito G, Ferrante M, Ianora A, Romano G. Lipoxygenase in marine diatoms: gene identification and functional studies. EMBO Workshop The molecular life of diatoms. June 25th- 28th, 2013 – Paris (France)

Lauritano C, Orefice I, Procaccini G, Romano G, Ianora A. Stress genes in the ubiquitous diatom Skeletonema marinoi. EMBO Workshop The molecular life of diatoms. June 25th- 28th, 2013 – Paris (France)