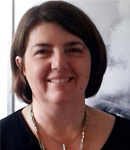 Technologist
Section RIMAR Unit MAB
Tel. +39 081 5833291
Fax: +39 081 7642725
e-mail claudia.disomma(at)szn.it
Skype: szn_claudia
Research interests
Studies and work experience have focused my interest on different aspects of information management in its broadest sense, including research on specialized databases, storage of documents and their cataloguing. In recent months, the task of coordinator of the MAB unit also includes the custodianship of the scientific collections and the museum kept at the Zoological Station since 1876. These facilities have focused my interest on various forms of information management and communication. With the use of electronic devices and thanks to the digitization of artefacts and documents, one can create virtual exhibitions, bringing together objects from various different disciplines and locations. With such infrastructure, end-users can browse through the records kept in the Historical Archive. This way they can study scientific drawings and photographs, check if the reproductions are present in the museum, and consult the library to verify ownership rights and to do in-depth bibliographic research.
Furthermore, in this context, I would like to reunite the virtual zoological collections sold over the years by the SZN to zoological institutions all over Europe (for example in Berlin, Florence).
The intrinsic potential of the unit will come up to speed once the routine operations of audit and inventory have been carried out.