Salta il contenuto e passa al menu a fondo pagina
You are here:
Home

Staff

List of Personnel

Asciutto Emanuele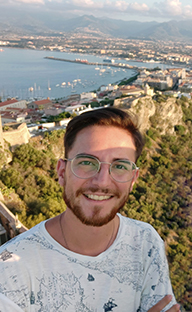 Research Fellowship
Sicily Marine Centre, Department of Integrative Marine Ecology
Stazione Zoologica Anton Dohrn
Sicily Marine Centre - Messina
Villa Pace, Contrada Porticatello 29
98167 Messina, Italia
Tel.: +39 3468261579
E-mail: This email address is being protected from spambots. You need JavaScript enabled to view it.
Contatto Skype: live:emanuele.asciutto
Supervisore: Pietro Battaglia
Appointed on project: Marine Strategy Convention – National Monitoring Plan on Recreational Fishing
Research Interests
My research interests are mainly focused on taxonomy and species' identification, in particular fishes, their biology and ecology, ranging from the neritic to the mesopelagic domain. For these reasons, during my studies I got in contact with various laboratory dynamics, conducting simple analysis on deep fauna stranded samples and on specimens from the MEDITS (Mediterranean International Trawl Survey) project collaborating in the identification of species, morphometric and weight measurements, autopsy analysis of gonads and removal of stomachs and otoliths.
Furthermore, my scientific interest is focused on the study of fishery resources, on fishing activities and in particular on recreational fishing. This, while representing one of the most popular activities along the coasts of several countries, remains currently poorly studied compared to the commercial counterpart. Deepening what are the effects (but also the potential) of recreational fishing is of remarkable interest in a dynamic and complex system like the marine one. My research work is currently focused on the investigation of fishing effort, mainly caught species and socio-economic aspects relating to this sector.