Salta il contenuto e passa al menu a fondo pagina
You are here:
Home

Staff

List of Personnel

Buonocore Carmine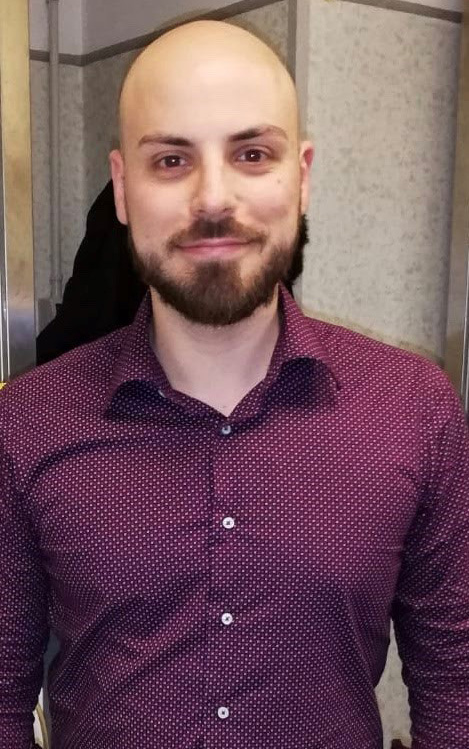 Ph. D. Student
EcoSustainable Marine Biotechnology Department
Stazione Zoologica Anton Dohrn
Villa Comunale
80121 Naples - Italy
Tel.: +39 081 5833270
Fax: +39 081 7641355
E-mail: carmine.buonocore(at)szn.it
Skype: live:7a2a40ff40cbe14c
Director of Studies: Andrea Riccio
Internal Supervisor: Andrea Riccio
External Supervisor: Donatella de Pascale
Program: Università degli Studi della Campania "Luigi Vanvitelli", 35° cycle; Biomolecular Sciences
Research Interests
My research activity is essentially divided in two parts. The first in mainly focused on the isolation and characterization of biosurfactants and siderophores from marine bacteria, while the second relies on their biotechnological applications. Biosurfactants are amphipathic molecules able to reduce surface tension; siderophores are small molecules able to strongly chelate iron and other metals, with lower affinity. These molecules show high biotechnological potential in relevant fields, such as pharmaceutic industry (e.g., antimicrobials, antivirals, antifungals), cosmetic industry (e.g., cosmeceuticals, emulsifying agents), and bioremediation (e.g., oil removers, heavy metal chelators). The workflow relies on the optimization of the conventional bio-discovery pipeline, applying innovative approaches to miniaturize cultivation, reduce the amount of organic solvents to extract secondary metabolites, enlarge the panel of screening for the detection of biosurfactants and siderophores producing microorganisms, and characterize the compounds through high-resolutions mass spectrometry.
The idea is to utilize novel biosurfactants and siderophores to explore new applications, such as the formulation of detergents and household products, or functionalization of surfaces and materials to counteract the super-bugs spreading.
Selected Publications
Giugliano R*, Buonocore C*, Zannella C, Chianese A, Palma Esposito F, Tedesco P, De Filippis A, Galdiero M, Franci G, de Pascale D. Antiviral Activity of the Rhamnolipids Mixture from the Antarctic Bacterium Pseudomonas gessardii M15 against Herpes Simplex Viruses and Coronaviruses. Pharmaceutics. 2021 Dec 8;13(12):2121. doi: 10.3390/pharmaceutics13122121. PMID: 34959400; PMCID: PMC8704987.
Palma Esposito F, Giugliano R, Della Sala G, Vitale GA, Buonocore C, Ausuri J, Galasso C, Coppola D, Franci G, Galdiero M, de Pascale D. Combining OSMAC Approach and Untargeted Metabolomics for the Identification of New Glycolipids with Potent Antiviral Activity Produced by a Marine Rhodococcus. Int J Mol Sci. 2021 Aug 22;22(16):9055. doi: 10.3390/ijms22169055. PMID: 34445761; PMCID: PMC8396431.
Zannella C, Giugliano R, Chianese A, Buonocore C, Vitale GA, Sanna G, Sarno F, Manzin A, Nebbioso A, Termolino P, Altucci L, Galdiero M, de Pascale D, Franci G. Antiviral Activity of Vitis vinifera Leaf Extract against SARS-CoV-2 and HSV-1. Viruses. 2021 Jun 29;13(7):1263. doi: 10.3390/v13071263. PMID: 34209556; PMCID: PMC8310055.
Ausuri J, Vitale GA, Coppola D, Palma Esposito F, Buonocore C, de Pascale D. Assessment of the Degradation Potential and Genomic Insights towards Phenanthrene by Dietzia psychralcaliphila JI1D. Microorganisms. 2021 Jun 19;9(6):1327. doi: 10.3390/microorganisms9061327. PMID: 34205451; PMCID: PMC8235520.
Vitale GA, Coppola D, Palma Esposito F, Buonocore C, Ausuri J, Tortorella E, de Pascale D. Antioxidant Molecules from Marine Fungi: Methodologies and Perspectives. Antioxidants (Basel). 2020 Nov 26;9(12):1183. doi: 10.3390/antiox9121183. PMID: 33256101; PMCID: PMC7760651.
Vitale GA, Sciarretta M, Cassiano C, Buonocore C, Festa C, Mazzella V, Núñez Pons L, D'Auria MV, de Pascale D. Molecular Network and Culture Media Variation Reveal a Complex Metabolic Profile in Pantoea cf. eucrina D2 Associated with an Acidified Marine Sponge. Int J Mol Sci. 2020 Aug 31;21(17):6307. doi: 10.3390/ijms21176307. PMID: 32878176; PMCID: PMC7504411.
Sorrentino I, Gargano M, Ricciardelli A, Parrilli E, Buonocore C, de Pascale D, Giardina P, Piscitelli A. Development of anti-bacterial surfaces using a hydrophobin chimeric protein. Int J Biol Macromol. 2020 Dec 1;164:2293-2300. doi: 10.1016/j.ijbiomac.2020.07.301. Epub 2020 Aug 5. PMID: 32768482.
Buonocore C, Tedesco P, Vitale GA, Esposito FP, Giugliano R, Monti MC, D'Auria MV, de Pascale D. Characterization of a New Mixture of Mono-Rhamnolipids Produced by Pseudomonas gessardii Isolated from Edmonson Point (Antarctica). Mar Drugs. 2020 May 20;18(5):269. doi: 10.3390/md18050269. PMID: 32443698; PMCID: PMC7281774.