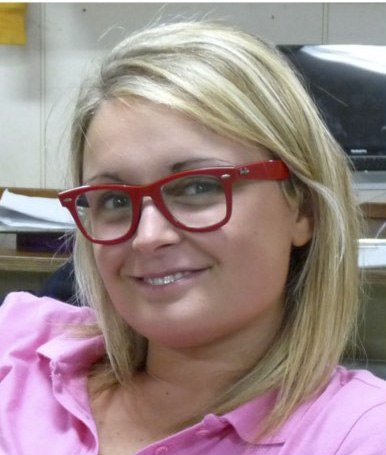 Research Fellow
SEDE SICILIA - Department of Integrative Marine Ecology
Stazione Zoologica Anton Dohrn
Sicily Marine Center, Messina, Italy
Contrada Porticatello, 29 – Villa Pace, 98167

E-mail: This email address is being protected from spambots. You need JavaScript enabled to view it.
Skype: Erika.arcadi
Supervisor: Teresa Romeo
Appointed on project: PON- Marine Hazard
Research Interests
Since the beginning of my studies my interest has always been aimed at extreme environments, starting with the deep marine environments, the deep hyperaline anoxic basins of the Mediterranean Sea, Meromictic lakes, saline, until today, specializing in the microbial functioning of hydrothermal environments. The activities are aimed at marine microbial ecology and marine biotechnology, investigating the role that extremomophiles have in these inhospitable environments. The analysis of the microbial community, as well as the cultivable fraction, as well as the search for specific genes involved in particular biochemical reactions provide us with a lot of information about the functioning of these hostile and still little studied ecosystems. The role of molecular analyzes at any level and in any field is the most irrefutable and precise way to obtain information. For some years my research has also expanded to higher organisms, with the analysis of genetic markers (COI, 28S, CR) for taxonomic identification and population genetics.
Selected Publications
Battaglia P, Pedà C, Rizzo C, Stipa MG, Arcadi E, Longo F, Ammendolia G, Cavallaro M, Rao I, Villari A, Calogero R, Consoli P, Sinopoli M, Andaloro F, Romeo T (2023) How Rare Are Argonautoidea Octopuses in the Mediterranean? New Data from Stranding Events, Stomach Contents and Genetics. Biology 12(3),420; https://doi.org/10.3390/biology12030420.
Calogero R, Rizzo C, Arcadi E, Stipa MG, Consoli P and Teresa Romeo (2022) Isolation and identification of Luminescent Bacteria in Deep Sea marine organisms from sicilian waters (Mediterranean Sea). Journal of Marine Science and Engeenenring, 10 (8) 1113.
Arcadi E*, Rastelli E*, Tangherlini M, Rizzo C, Mancuso M, Sanfilippo M, Esposito V, Andaloro F and Romeo T (2021) Shallow-water hydrothermal vents as natural accelerators of bacterial antibiotic resistance in marine coastal areas. Microorganisms MDPI, https://doi.org/10.3390
Rizzo C*, Arcadi E*, Calogero R, Sciutteri V, Consoli P, Esposito V, Canese S, Andaloro F and Romeo T (2021) Ecological and biotechnological relevance of Mediterranean hydrothermal vent systems. Minerals MDPI https://doi.org/10.3390
Leoni C, Volpicella M, Fosso B, Manzari C, Piancone E, Dileo M, Arcadi E, Yakimov MM, Pesole G, Ceci L (2020). A differential metabarcoding approach to describe taxonomy profiles of Bacteria and Archaea in the Saltern of Margherita di Savoia (Italy). Microrganisms , 8 (6), 936.
La Cono V, Messina E, Rohde M, Arcadi E, Ciordia S, Crisafi F, Denaro R, Ferrer M, Giuliano L, Golyshin PN, Golyshina OV, Hallsworth JE, La Spada G, Mena MC, Shevchenko MA, Smedile F, Sorokin DY, Toshchakov SV, Mushegian A, Yakimov MM (2020). Symbiosis between nanohaloarchaeon and haloarchaeon is based on utilization of different polysaccharides. PNAS, 117 (33): 20223-20234.
Golyshina OG, Toshchakov SV, Marakova KS, Gavrilon SN, Korzhankov AA, La Cono V, Arcadi E, Nechitaylo TY, Ferrer M, Kublanov IV, Wolf YI, Yakimov MM, Golyshin PN (2017). ARMAN archaea depend on association with euryarcheal host in culture and in situ. Nature Communication vol. 8.
Messina E, Sorokin DY, Kublanov IV, Toshchakov S, Lopatina A, Arcadi E, Smedile F, La Spada G, La Cono V and Yakimov MM (2016). Complete genome sequence of "Halanaeroarchaeum sulfurireducens" M27-­SA2, a sulfur-­‐ reducing and acetate oxidizing haloarchaeon from the deep sea hypersaline anoxic lake Medee. Standards in Genomic Science.
La Cono V, Arcadi E, La Spada G, Barreca D, Laganà G, Bellocco E, Catalfamo M, Smedile F, Messina E, Giuliano L, and Yakimov MM (2015). A three-­component microbial consortium from Deep-­sea salt-­satured anoxic Lake Thetis links anaerobic glycine betaine degradation with methanogenesis. Microrganisms 3: 500-­517.
La Cono V, Smedile F, La Spada G, Arcadi E, Genovese M, Ruggeri G, Genovese L, Giuliano L, Yakimov MM (2015). Shifts in the meso-­and bathypelagic archaea communities composition during recovery and short-­term handing of decompressed deep-­sea samples. Environmental microbiology reports 3: 450 -­ 459.
Yakimov MM, La Cono V, La Spada G, Bortoluzzi G, Messina E, Smedile F, Arcadi E, Borghini M, Ferrer M, Schmitt-­Kopplin P, Hertkorn N, Cray JA, Hallsworth JE, Golyshin PN, Giuliano L (2014). Microbial community of deep-­sea lake Kryos seawater-­brine interface is active below the chaotropicity limit of life as revealed by recovery of mRNA. Environmental Microbiology.
Yakimov MM, La Cono V, Smedile S, Crisafi F, Arcadi E, Leonardi M, Decembrini F, Catalfamo M, Barigela R, Ferrer M, Golyshin PN, Giuliano L, (2014). Heterotrophic bicarbonate assimilation is the main process of de novo organic carbon synthesis in hadal zone of Hellenic Trench, the deepest part of Mediterranean Sea, Environmental Microbiology Report.
Yakimov MM, La Cono V, Slepak VZ, La Spada G, Arcadi E, Messina E, Borghini M, Monticelli LS, Rojo D, Barbas C, Golyshina OV, Ferrer M, Golyshin PN, Giuliano L (2013). Microbial life in the Lake Medee, the largest deep-­sea salt-­satured formation, Nature Scientific report.
La Cono V,La Spada G, Arcadi E, Placenti F, Smedile F, Ruggeri G, Michaud L, Raffa C, De Domenico E, Sprovieri M, Mazzola S, Genovese L, Giuliano L, Slepak VZ, Yakimov MM (2012). Partaking of Archaea to biogeochemical cycling in oxygen-­‐deficient zones of meromictic saline Lake Faro (Messina, Italy), Environmental Microbiology.