Salta il contenuto e passa al menu a fondo pagina
You are here:
Home

Staff

List of Personnel

Giaccone Thalassia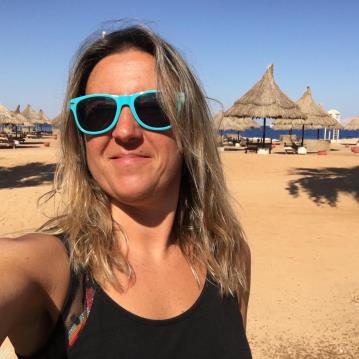 Technologist
Marine Animal Conservation and Public Engagement Department (CAPE)
Museo Darwin Dohrn
della Stazione Zoologica Anton Dohrn di Napoli
Villa Comunale - 80121 Napoli
E-mail: This email address is being protected from spambots. You need JavaScript enabled to view it.
Research Interests
- Integral ecology and environmental sustainability
- Planning underwater geo-naturalist itineraries, temporary and permanent museum exhibitions
- Planning scientific content for museum spaces and scientific documentary
- Environmental education and environmental tourism
- Scientific communication (information and promotion of research results)
- Bionomy, phytosociology, ecology, paleoecology and sedimentology of marine bottoms characterized by Fitofacies of non-genicolate Corallinales
- Bioconstructions with calcareous algae and free-living calcareous algae of the photic and mesophotic zone
- Non-geniculate Corallinales as paleoenvironmental and paleoclimatic indicators
- Reconstruction of the hydrodynamic, biocenotic and sedimentological characteristics of quaternary paleoenvironments and actual environments
- Underwater naturalist photography as a scientific documentation tool and as a scientific dissemination tool for museum services
- Exploration and monitoring of the marine environment through underwater activities with A.R.A. (air self-contained breathing apparatus) and through the use of enriched air (Nitrox); benthos sampling (direct and indirect methods).
Selected Publications
Giaccone G., Alongi G., Catra M., Cormaci M., Furnari G., Giaccone T. and Serio D. (2010). Macrophytobenthos and the ecological status of coastal waters around Sicily. Chemistry and Ecology, 26, Supplement, June 2010: 241–248
Bordonaro G., Giaccone G., Giaccone T. (autori, curatori e fotografi) (2014). Itinerari rurali lungo le Regie Trazzere: natura, archeologia, storia e sviluppo sostenibile. Guida per il turismo rurale nei territori siciliani di Ventimiglia di Sicilia, di Baucina e di Ciminna. Pressup S.r.l., Bagheria
Giaccone T., Genovese S. (2015). Itinerari rurali marini (Rural Art, Progetto Operativo n°2/2015) - Edizioni 2015 Gal Metropoli Est, Curatore Editoriale Roberto Sardina.
Ferranti M.P., Betti F., Bo M., De La Fuente Mancebo, Di Camillo C.G., Di Franco A., Di Martino E., Fava F., Giaccone T., Giussani V., Matrone M., Mussat Sartor R., Musco L., Pica D., Ragazzola F., Renzi M., Scinto A., Sinagra A., Tazioli S., Bertolino M. (2015). App pinneggiando: la tecnologia al servizio della biologia marina – Biologia Marina Mediterranea, 22 (1): 223-224.
Leucci G., Cubito A., De Giorgi L., Pappalardo S., Giaccone T., Greco C., (2015). Rilievi geofisici in siti di interesse archeologico in agro di Baucina (PA) – Atti 34° Convegno GNTS, Trieste (11-19/11 2015).
Giaccone T., Giaccone G., Mannino A.M. (2018). Deep Rhodolith Beds in the Ustica Island (Sicily, southern Tyrrenian Sea): a sedimentary and paleoecological approach – Geogr. Fis. Dinam. Quat. 41 (2018): 47-63, 1 fig., 15 tabb..
Furlani S., Vaccher V. , Antonioli F., Agate M., Biolchi S., Boccali C., Busetti A., Caldareri F., Canziani F., Chemello R., JCauson Deguara J., Dal Bo E., Dean S., Deiana G., De Sabata E., Donno Y., Gauci R., Giaccone T., Lo Presti V., Montagna P., Navone A., Emanuele Orrù P., Porqueddu A., Schembri J.A., Taviani M., Torricella F., Trainito E., Vacchi M., Venturini E. (2021). Preservation of Modern and MIS 5.5 Erosional Landforms and Biological Structures as Sea Level Markers: A Matter of Luck? - Water, Vol.13, Issue 15: 1-32.
Antonioli F., Lo Presti V., Giaccone T. (2021). Il sito preistorico dell'Arco Naturale di Capo Zafferano: indagini subacquee dove camminavano i Mesolitici – Atti XVII Rassegna Internazionale di Archeologia Subacquea, 7-9 ottobre, Giardini Naxos (Me), in print.
Websites
https://2100documentary.wixsite.com/2100
Book chapters
Giaccone G., Giaccone T., M. Vagliasindi (autori e/o curatori) (2011). Capitolo 6 - Produttori primari pluricellulari: macroalghe ed angiosperme; Appendice 19A – Valutazione e gestione dell'impatto umano sull'ambiente marino; Appendice B – Habitat e associazioni vegetali marini presenti in Mediterraneo; Focus delle Scienze 6.1 - Le Macroalghe della barriera corallina e delle altre biocostruzioni marine; Approfondimento 11.1 - Zonazione bionomica e fitosociologia del Mediterraneo; Approfondimento 13.3 - Foreste a Laminarie; Approfondimento 13.4 - La regressione delle praterie a fanerogame marine; Approfondimento 18.3 - Biogeografia della biodiversità in Mediterraneo; Approfondimento 19.2 - Bioarcheologia marina in Mediterraneo. In: Sandulli R., Giaccone G., Tursi A. (curatori per l'edizione italiana) (2011). Biologia Marina (Peter Castro e Michael E. Huber, autori dell'edizione americana). McGraw-Hill Companies, S.r.l. Publishing Group Italia. Milano: 1-517.
Bordonaro G., David P., Di trapani E., Faraone F.P., Fricano L., Geraci M., Giacalone G., Giaccone G., Giaccone T., Indelicato M., Lo Valvo M., Muscarella C., Orlando S., Pugliese M., Tornatore E., Tosi S. (2015). In Sicilia il territorio del Gal Metropoli Est: conoscere per investire. Edizioni 2015 Gal Metropoli Est.
Giaccone T. (fotografa) (2015). Percorsi archeologici subacquei tra Aspra, Porticello e Trabia in "In Sicilia Gal Metropoli Est, Viaggio in un territorio d'amare. OPTM Editore, Palermo: 24-25