Salta il contenuto e passa al menu a fondo pagina
You are here:
Home

Staff

List of Personnel

Carrella Sabrina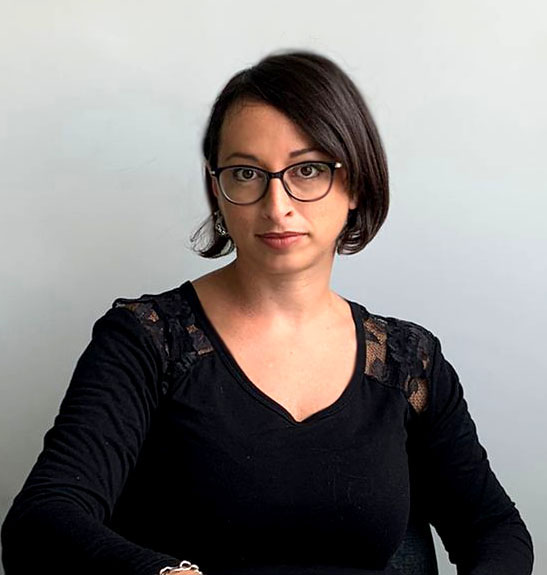 Researcher
Ecosustainable Marine Biotechnology Department
Stazione Zoologica Anton Dohrn
Sede Molosiglio, Via Acton 55
80133 Napoli - Italia
E-mail: sabrina.carrella(at)szn.it
Research Interests
A gene regulatory network is a set of genes that interact each other to control a specific cell function. Gene regulatory networks are important in development, differentiation and response to environmental cues. Non-coding RNAs (ncRNAs) are established as key regulators of several developmental and physiological processes. microRNAs (miRNAs) have emerged as an intriguing class of regulatory ncRNAs because of their powerful and well-conserved mechanism of sequence-specific post-transcriptional gene regulation. In particular, each miRNA is predicted to recognize on average 200 mRNA targets, allowing for a pleiotropic fine-tuning of correlated pathways that confers robustness to biological processes. In my working career, I focused my attention on the dissection of miRNA functions and on the design of strategies and technologies to modulate their function for biomedical applications. Exploiting my experience and knowledge in ncRNAs and miRNAs biology, the purpose of my work relies on the dissection of marine organisms' gene regulatory network and their biochemical pathways. These studies aim at the final design of strategies for biotechnological nutraceutical, cosmeceuticals, and pharmaceutical applications..
Selected Publications
1. Conte I, Carrella S, Avellino R, Karali M, Marco-Ferreres R, Bovolenta P, Banfi S. (2010) "miR-204 is required for lens and retinal development via Meis2 targeting." Proc Natl Acad Sci U S A 107: 15491-15496
2. R. Avellino, S. Carrella, M. Pirozzi, M. Risolino, Salierno FG, P. Franco, P. Stoppelli, P. Verde, S. Banfi, I.Conte (2013) "miR-204 targeting of Ankrd13A controls both mesenchymal neural crest and lens cell migration" PLoS One 8: e61099
3. Poulter JA, Al-Araimi M, Conte I, van Genderen MM, Sheridan E, Carr IM, Parry DA, Shires M, Carrella S, Bradbury J, Khan K, Lakeman P, Sergouniotis PI, Webster AR, Moore AT, Pal B, Mohamed MD, Venkataramana A, Ramprasad V, Shetty R, Saktivel M, Kumaramanickavel G, Tan A, Mackey DA, Hewitt AW, Banfi S, Ali M, Inglehearn CF, Toomes C. (2013 ) "Recessive Mutations in SLC38A8 Cause Foveal Hypoplasia and Optic Nerve Misrouting without Albinism."Am J Hum Genet 93: 1143-1150
4. Ivan Conte, Stefania Merella, Jose Manuel Garcia Manteiga, Chiara Migliore, Dejan Lazarevic, Sabrina Carrella, Raquel Marco-Ferreres, Raffaella Avellino, Davidson Nathan Paul, Warren Emmett, Remo Sanges, Nicholas Bockett, David Van Heel, Germana Meroni, Paola Bovolenta, Sandro Banfi, Elia Stupka. (2014) "The combination of transcriptomics and informatics identifies pathways targetted by miR-204 during neurogenesis and axon guidance". Nucleic Acids Res 42: 7793-7806.
5. Sabrina Carrella, Ylenia D'Agostino, Sara Barbato, Sabina P. Huber-Reggi, Francesco Giuseppe Salierno, Anna Manfredi, Stephan C.F. Neuhauss, Sandro Banfi, Ivan Conte (2015). "miR-181a/b control the assembly of visual circuitry by regulating retinal axon specification and growth". Dev Neurobiol 75: 1252-1267.
6. Ivan Conte, Kristen D Hadfield, Sara Barbato, Sabrina Carrella, Mariateresa Pizzo, Louise F Porter, Sofie Hateley, James O'Sullivan, Forbes Manson, Stephan C.F. Neuhauss, Sandro Banfi, Graeme C M Black (2015). "MiR-204 is responsible for inherited retinal dystrophy associated with ocular coloboma". Proc Natl Acad Sci U S A 112: E3236-3245.
7. Sabrina Carrella, Sara Barbato, Ylenia D'Agostino, Francesco Giuseppe Salierno, Anna Manfredi, Sandro Banfi, Ivan Conte (2015). "TGF-β controls miR-181/ERK regulatory network during retinal axon specification and growth." PlosOne 10(12):e0144129.
8. Alessia Indrieri†, Sabrina Carrella†, Alessia Romano, Alessandra Spaziano, Elena Marrocco, Erika Fernandez-Vizarra, Sara Barbato, Mariateresa Pizzo, Yulia Ezhova, Francesca M. Golia, Ludovica Ciampi, Roberta Tammaro, Jorge Henao-Mejia, Adam Williams, Richard A. Flavell, Elvira De Leonibus, Massimo Zeviani, Enrico M. Surace, Sandro Banfi*, Brunella Franco*. "miR-181a/b downregulation exerts a protective action on Mitochondrial Disease models". EMBO Molecular Medicine, 2019 † co-first authors; *co-corresponding authors
9. Alessia Indrieri, Sabrina Carrella, Pietro Carotenuto, Sandro Banfi and Brunella Franco. "The Pervasive Role of the miR-181 Family in Development, Neurodegeneration, and Cancer." Int J Mol Sci. 2020
10. Sabrina Carrella*, Alessia Indrieri, Brunella Franco, Sandro Banfi*. "Mutation-Independent Therapies for Retinal Diseases: Focus on Gene-Based Approaches". Front Neurosci. 2020 *co-corresponding authors
11. Sabrina Carrella*, Sandro Banfi*, Marianthi Karali *. "Sophisticated gene regulation for a complex physiological system: the role of non-coding RNAs in photoreceptor cells". Front Cell Dev Biol. 2021 *co-corresponding authors
12. Anna Barbato, Antonella Iuliano, Mariagrazia Volpe, Romina D'Alterio, Simona Brillante, Filomena Massa, Rossella De Cegli, Sabrina Carrella, Massimiliano Salati, Annapina Russo, Giulia Russo, Sara Riccardo, Davide Cacchiarelli, Mariaelena Capone, Gabriele Madonna, Paolo A. Ascierto, Brunella Franco, Alessia Indrieri and Pietro Carotenuto. "Integrated Genomics Identifies miR-181/TFAM Pathway as a Critical Driver of Drug-resistance in Melanoma" Int. J. Mol. Sci. 2021
13. Sabrina Carrella*, Filomena Massa, Alessia Indrieri*. "microRNAs in mitochondrial-related eye diseases" Front Cell Dev Biol. 2021 *co-corresponding authors
14. Brillante S, Galasso C, Lauritano C, Carrella S*. From the Sea for the Sight: Marine Derived Products for Human Vision. Front Aging Neurosci. 2022 May 9;14:892764. doi: 10.3389/fnagi.2022.892764. PMID: 35615590; PMCID: PMC9124809. (*corresponding author)
15. Ciampi L, Mantica F, López-Blanch L, Permanyer J, Rodriguez-Marín C, Zang J, Cianferoni D, Jiménez-Delgado S, Bonnal S, Miravet-Verde S, Ruprecht V, Neuhauss SCF, Banfi S, Carrella S, Serrano L, Head SA, Irimia M. Specialization of the photoreceptor transcriptome by Srrm3-dependent microexons is required for outer segment maintenance and vision. Proc Natl Acad Sci U S A. 2022 Jul 19;119(29):e2117090119. doi: 10.1073/pnas.2117090119. Epub 2022 Jul 12. PMID: 35858306; PMCID: PMC9303857.
16. Nocera GM, Viscido G, Criscuolo S, Brillante S, Carbone F, Staiano L, Carrella S, di Bernardo D. The VersaLive platform enables microfluidic mammalian cell culture for versatile applications. Commun Biol. 2022 Sep 29;5(1):1034. doi: 10.1038/s42003-022-03976-8. Erratum in: Commun Biol. 2022 Oct 13;5(1):1090. PMID: 36175545; PMCID: PMC9522807.
17. Carrella S*, Di Guida M, Brillante S, Piccolo D, Ciampi L, Guadagnino I, Garcia Piqueras J, Pizzo M, Marrocco E, Molinari M, Petrogiannakis G, Barbato S, Ezhova Y, Auricchio A, Franco B, De Leonibus E, Surace EM, Indrieri A, Banfi S*. miR-181a/b downregulation: a mutation-independent therapeutic approach for inherited retinal diseases. EMBO Mol Med. 2022 Oct 4:e15941. doi: 10.15252/emmm.202215941. Epub ahead of print. PMID: 36194668. (*co-corresponding authors)