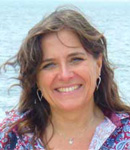 Senior Researcher
Integrative Marine Ecology Department
Tel. +39 081 5833235
Fax: +39 081 7641355
e-mail: raffaella.casotti(at)szn.it
Contatto Skype: raffaella.casotti
Research interests
In the last years, I have been investigating the effects of diatom secondary metabolites on plankton organisms, including diatoms and bacteria. I focused on Polyunsaturated Aldehydes (PUA), which are also used by diatoms to affect their main predators, the copepods. I have tested PUAs on other phytoplankton and bacteria and found that PUAs trigger a sophisticated stress signaling pathway involving NO and ROS as a function on the PUA concentration.
This has strong implications on the ecology of coastal areas, where diatoms are present in high numbers and give massive blooms. During these blooms, these PUA may act as determinants and modulators of community composition and also regulate the bloom development and fate.
Being a marine ecologist as background, my interest is to test the hypotheses on the functioning of PUA at sea, and for this reason, I have led several research cruises aimed at assessing PUA concentrations at sea, lysis rates and their possible effects in situ.
My main tool of research is flow cytometry, both used in the lab and at sea during oceanographic cruises. However, most recently, I have used several molecular techniques such as CARD-FISH alone or coupled with Microautoradiography and metagenomics to the diversity and function of heterotrophic bacteria in the Gulf of Naples. At the same time, I am expanding the capabilities of flow cytometry to use high-throughput cell sorters to couple with molecular methods and submersible instruments for water quality marine monitoring.
Principali Pubblicazioni
*corresponding author
*Casotti R, Mazza S, Brunet C, Vantrepotte V, Ianora A, Miralto A. (2005) Growth autoinhibition and genotoxicity of the diatom aldehyde 2-trans-4-trans decadienal on Thalassiosira weissflogii (Bacillariophyceae). J. Phycol. 41: 7-20.
Vardi, A., F. Formiggini, R. Casotti, A. de Martino, F. Ribalet, A. Miralto and C. Bowler (2006) A stress surveillance system based on calcium and nitric oxide in marine diatoms. PLoS Biology 4(3): 1-9.
*Ribalet F, Intertaglia L, Lebaron P, Casotti R. (2008) Differential effect of three polyunsaturated aldehydes on the growth of thirty three marine bacterial strains. Aquatic Toxicology 86: 249-255
*Ribalet F., Vidoudez C., Cassin, D., Pohnert G., Ianora A., Miralto A., and Casotti R. (2009) High plasticity in the production of diatom-derived polyunsaturated aldehydes under nutrient limitation: Physiological and ecological implications. Protist 160(3): 444-451 doi 10.106/j.protis.2009.01.003
*Balestra C., Alonso-Saez L., Gasol J. M., Casotti R. (2011) Group-specific effects on coastal bacterioplankton of polyunsaturated aldehydes produced by diatoms. Aquatic Microbial Ecology 63: 123-131
*Ribalet F., Bastianini M., Vidoudez C., Acri F., Berges J., Ianora A., Miralto A., Pohnert G., Romano G., Wichard T, Casotti R. (2014). Phytoplankton Cell Lysis Associated with Polyunsaturated Aldehyde Release in the Northern Adriatic Sea. PLoS One 9(1): e85947. doi:10.1371/journal.pone.0085947
Villar E., Farrant G., Follows M., Garczarek L., Speich S. Audic S., Bittner L., Blanke B., Brum J.R., Brunet C., Casotti R., Chase A., Dolan J.R., d'Ortenzio F., Gattuso J-P., Nicolas Grima, Lionel Guidi, Christopher N. Hill, Oliver Jahn, Jean-Louis Jamet, Hervé Le Goff, Cyrille Lepoivre, Shruti Malviya, Eric Pelletier, Jean-Baptiste Romagnan, Simon Roux, Sébastien Santini, Eleonora Scalco, Sarah M. Schwenck, Atsuko Tanaka, Pierre Testor, Thomas Vannier, Flora Vincent, Adriana Zingone, Céline Dimier, Marc Picheral, Sarah Searson, Stefanie Kandels-Lewis, Tara Oceans coordinators, Silvia G. Acinas, Peer Bork17, Emmanuel Boss, Colomban de Vargas, Gabriel Gorsky, Hiroyuki Ogata, Stéphane Pesant, Matthew B. Sullivan, Shinichi Sunagawa, Patrick Wincker, Karsenti E., Bowler C., Not F., Hingamp P., Iudicone D. (2015). Environmental characteristics of Agulhas rings affect inter-ocean plankton transport. Science 348(6237) doi: 10.1126/science.1261447
*Gallina A., Palumbo A., Casotti R. Oxidative pathways in response to polyunsaturated aldehydes in the marine diatom Skeletonema marinoi (Bacillariophyceae) J. Phycology (2016) 52(4):590-598; DOI: 10.1111/jpy.12421
*Thiele S., Richter M., Balestra C., Glockner F-O, Casotti R. (2017). Taxonomic and functional diversity of a coastal planktonic bacterial community in a river-influenced marine area. Marine Genomics 32:61-69
*Pepi M., Heipieper H.J., Balestra C., Borra M., Biffali E., Casotti R. Toxicity of diatom polyunsaturated aldehydes to marine bacterial isolates reveals their enormous potential as contact poisons (2017) Chemosphere 177: 258-265
*Richa K., Balestra C., Piredda R., Benes V., Borra M., Passarelli A., Margiotta F., Saggiomo M., Biffali E., Sanges R., Scanlan DJ., Casotti R. (2017) Distribution, community composition and potential metabolic activity of bacterioplankton in an urbanized Mediterranean Sea coastal zone. Applied and Environmental Microbiology 83(17):1-17 83:e00494-17.