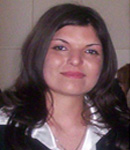 Post Doc
Section BEOM
Tel. +39 081 5833233
Fax: +39 081 7641355
e-mail alessandra.gallo(at)szn.it

Research interests
Reproduction is the complex biological process by which a new organism is generated allowing the conservation of the species. This process is very sensitive to interference of surrounding environment, in fact marine invertebrates can be influenced by xenobiotics and physic-chemical changes of the seawater. The impact of environmental stress may interfere with the physiological functions of organisms by inducing reproductive disorders and consequently altering species fitness and survival. We have investigated the effects of several xenobiotics on some reproductive mechanisms of the marine invertebrate Ciona intestinalis (ascidians) showing that these compounds may disrupt the physiological reproductive mechanisms by affecting the plasma membrane electrical properties of the mature oocyte, fertilization and the following larval development. We have shown that exposure to environmental stress represents a significant risk factor for the physiology of reproduction of marine species. In this line we suggest C. intestinalis as valuable model organism for ecotoxicological studies that are of primary importance for marine environment preservation. Tasks include: the evaluation of environmental temperature variations and nanoparticles impact on the physiology of gametes of ascidians and molluscs.
A preliminary study by our group showed that a methanolic extract prepared from a homogenate of the mediterranean ascidian C. intestinalis was able to inhibit the proliferation of cell lines of different origin suggesting the presence of bioactive compound(s) with antitumor activity. Our aim is to isolate and characterize organic molecules present or produced by the same ascidian in order to propose such compounds in pre-clinical studies as potential anticancer drugs.
Selected Publications
Gallo A, Tosti E. (2015). Reprotoxicity of the antifoulantchlorothalonil in ascidians: An Ecological Risk Assessment. Plos One, 10(4): e0123074

Madonna A, Alwany MA, Rabbito D, Trocchia S, Labar S, Abdel-Gawad FK, D'Angelo R, Gallo A, Guerriero G, Ciarcia G. (2015). Caves biodiversity in the marine area of Riviera d'Ulisse Regional Park, Italy: Grotta del Maresciallo Overview. J Biodivers Endanger Species, 3 (2): 153.

Bezzaouia A, Gallo A, Silvestre F, Tekaya S, Tosti E. (2014). Distribution pattern and activity of mitochondria during oocyte growth and maturation in the ascidian Styela plicata. Zygote, 22(04): 462-469.

Gallo A, Tosti E. (2013). Adverse effect of antifouling compounds on the reproductive mechanisms of the ascidian Ciona intestinalis. Mar Drugs, 11: 3554-3568.

Gallo A, Russo GL, Tosti E. T-type Ca2+ current activity during oocyte growth and maturation in the ascidian Styela plicata. (2013). Plos One, 8(1): 54e604.

Tosti E, Boni R, Gallo A, Silvestre F. (2013). Ion currents modulating oocyte maturation in animals. Syst. Biol. Reprod. Med., 59(2): 61-68.

Gallo A, Silvestre F, Cuomo A, Papoff F, Tosti E. Impact of metals on the reproductive mechanism of Ciona intestinalis. (2011). Mar Ecol., 32: 222-231.

Tosti E, Gallo A, Silvestre F. (2011). Ion currents involved in oocyte maturation, fertilization and early developmental stages of the ascidian Ciona intestinalis. Mol. Reprod. Dev., 78(10‐11): 854-860.

Silvestre F, Gallo A, Cuomo A, Covino T, Tosti E. (2010). Role of cyclic AMP in the maturation of Ciona intestinalis oocytes. Zygote, 19(4): 365-71.
Book chapters
Gallo A, Tosti E. (2015). Cytoskeletal Elements and the Reproductive Success in Animals. In: Schatten H, Ed. The Cytoskeleton in Health and Disease. New York: Springer Science. pp. 147-166.