Nel 1879 la Stazione Zoologica Anton Dohrn iniziò a pubblicare la propria rivista di biologia marina, dal titolo: Mittheilungen aus der Zoologischen Station zu Neapel. A partire dal 1916, la rivista ha preso il nome di: PSZNI Marine Ecology (Pubblicazioni della Stazione Zoologica di Napoli) e raccoglieva i risultati più rilevanti della ricerca svolta alla Stazione sia dal personale scientifico che dai ricercatori ospiti. Il crescente numero di articoli prodotti nel settore e di riviste specializzate internazionali portò ad una riorganizzazione della rivista che fu divisa in due ognuno delle quali focalizzata ad argomenti non completamente coperti da altre riviste internazionali. Conseguentemente nel 2005 nascono: Marine Ecology: an evolutionary perspective e History and Philosophy of the Life Science.
Marine Ecology: an evolutionary perspective

Marine Ecology: an evolutionary perspective, la rivista ufficiale della Stazione Zoologica ha rinnovato dal 2005 Editori, Editorial Board, formato e struttura editoriale generale.
La rivista è pubblicata da Wiley-Blackwell con 4 fascicoli per anno; l'Impact Factor (2015) è 1,076.

La rivista ha un Editor in Chief: Prof. Craig M. Young

Gli Associate Editors sono:
Fabio Badalamenti, Consiglio Nazionale delle Ricerche – IAMC
Maria Cristina Gambi, Stazione Zoologica Anton Dohrn

L'Editorial board che consiste di oltre 20 membri appartenenti a diverse Istituzioni internazionale.
Nell'Editorial Board sono anche presenti ricercatori della SZN: Raffaella Casotti, Maria Grazia Mazzocchi, Gabriele Procaccini.

Web Admistrator: Giuseppina Gargano.
Maggiori dettagli su Editorial Board, aims and scope del Journal ed i suoi diversi formati sono reperibili sul sito web della rivista: www.blackwellpublishing.com/mae.
Mentre per la submission dei lavori è attivo il sito web: mc.manuscriptcentral.com/mae
History and Philosophy of the Life Science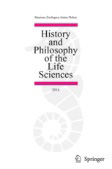 History of Philosophy of the Life Sciences is an interdisciplinary journal committed to providing an integrative approach to understanding the life sciences. In specific terms, it welcomes submissions from biologists, historians, philosophers, and scholars in the social study of science that offer broad and interdisciplinary perspectives on the development of biology, especially as these perspectives illuminate both biology's scientific development and its larger role in society. Submissions which are collaborative and feature different disciplinary approaches are especially encouraged, as are submissions written by senior and junior scholars (including graduate students). HPLS also welcomes submissions featuring novel formats. While it is anticipated most submissions will represent recent scholarship, they may also include essays on contemporary issues or perspectives, results of unique workshops, and/or discussions featuring a wide-range of perspectives. Papers are published on the understanding that they have not been published before and are not concurrently under offer to any other journal. Authors will usually receive a decision on their articles within 3 months of receipt.
The languages of the journal are English, French, German, and Italian; however, other languages can be considered. Book reviews are published only in English.
Copyright © 2006 Stazione Zoologica Anton Dohrn, Villa Comunale, 80121 Napoli, Italy