Salta il contenuto e passa al menu a fondo pagina
You are here:
Home

Staff

List of Personnel

Mutalipassi Mirko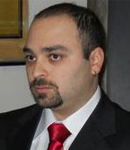 Ph. D.
Section EMI
Tel. +39 081 5833503
Fax: +39 081 7641355
e-mail mirko.mutalipassi(at)szn.it
Research interests
The aim of my research is to redefine the concept of model species through an experimental approach on a range of marine animals.
The project is focused on the identification of eligible new model organisms for marine science that show desirable characteristics, the development of new culture / rearing methods as well as the study of behavioral and physiological responses. In order to define a model species ranking will be performed behavioural test, nucleic acids and proteins extractions, physiological and molecular assays as well as test on effects of proapoptogenic compounds, VOC and secondary metabolites.
Journal Papers
Mutalipassi M., Di Natale M., Auletta L., Agnisola C., Pititto F.M. and Esposito L. (2014) Food web in an artificial basin of Southern Italy: lake Angitola. Journal of Nutritional Ecology and Food Research, 1, 1-6.