Salta il contenuto e passa al menu a fondo pagina
You are here:
Home

Staff

List of Personnel

Napolitano Rachele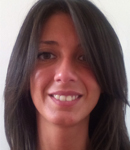 Ph. D. Student
Section EMI
Tel. +39 071 2204273
e-mail r.napolitano(at)pm.univpm.it
Research interests
The research activity aims to develop of non-contact measurement techniques for the observation and reconstruction of underwater benthic habitats and organisms, especially of coral. In this way, marine biology could performing accurate measurements of volume, surface area and other morphometric measurements of three-dimensional biological objects, without removing them from the sea, that represents a valuable contribution for the preservation of current marine flora and fauna. This work is developed within the DIISM-UnivPM and "Stazione Zoologica Anthon Dohrn" in Naples . This research proposal is to use the technology of laser-based 3D shape and color measurements , to the "underwater world".