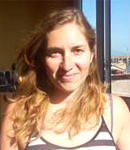 PhD Student
Section EMI
Tel. +39 081 5833243
Fax: +39 081 7641355
Skype: arianna.smerilli
Thesis title: Enhancement of carotenoid biosynthesis and antioxidant responses in microalgae by light modulation
Diatoms are widely distributed in all the aquatic ecosystems, and a reason for their ecological success relies on their ability to acclimate very fast to the rapid change of their natural environment.
In marine ecosystems one of the main abiotic parameters that influence microalgal growth is light, that shows high variability in short time and space scale in its intensity, frequency, and spectral composition. Microalgae are constantly moved along the water column by currents and tides, and for that reason cells developed different photoprotective mechanisms to cope with this changing environment, such as the dissipation of excess of energy as heat (NPQ), the modification of the pigment content, and different antioxidant mechanisms, enzymatic and non-enzymatic.
From a biotechnological perspective the manipulation of light can improve the culturing conditions of microalgae, leading us to a maximization of biomass together with an enhanced production and subsequent exploitation of high added value products, such as antioxidants, carotenoids, PUFA, etc.
For these reasons my studies are focused on the better understanding of the role of light in the carotenoid biosynthesis and antioxidant responses.
I measure photosynthetic parameters through a PAM fluorometer, carotenoid concentration with HPLC and antioxidant parameters through spectrophotometric techniques.