Salta il contenuto e passa al menu a fondo pagina
You are here:
Home

Staff

List of Personnel

Ponte Giovanna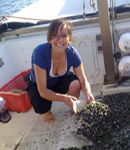 Researcher
Biology and Evolution of Marine Organisms Department
Tel. +39 081 5833232
Fax: +39 081 7641355
e-mail giovanna.ponte(at)szn.it

Research interests
My major aim is studying the animal welfare, and understanding the biological mechanisms that underlie the maintenance and allow a correct "evaluation" of it. The inclusion of this issue in all the strategic documents of the European Community has given the right push to nationwide in promoting more scientific research aimed at strengthening a synergistic international strategy. This change of direction is correlated to the change of "focus" of the scientific research that has always focused on direct response event "stressor" at the molecular, cellular and/or tissue, almost losing sight of the damage/final effect at organism level in its entirety and complexity.
My continuing interest in the neural mechanisms governed by the physiological responses to physiological and neural and the study of neuromodulation, with particular attention to the mollusk cephalopod Octopus vulgaris, led me to investigate and identify systems for assessing and monitoring the well-being of this species applicable both in science, where they are used as "animal models", and in the "commercial" use, given the great interest in this species for human consumption.
Selected Publications
Zarrella I, Ponte G, Baldascino E, Fiorito G. (2015). Learning and memory in Octopus vulgaris: a case of biological plasticity. Current opinion in neurobiology, 35, 74-79

Amodio P, Andrews P, Salemme M, Ponte G, Fiorito G. (2014). The Use of Artificial Crabs for Testing Predatory Behavior and Health in the Octopus. Altex, 31: 494-499

Margheri L, Ponte G, Mazzolai B, Laschi C and Fiorito G. (2011). Non-invasive study of Octopus vulgaris arm morphology using ultrasound. Journal of Experimental Biology, 214: 3727-3731

Canali E, Ponte G, Belcari P, Rocha F, Fiorito G. (2011). Evaluating age in Octopus vulgaris: estimation, validation and seasonal differences. Marine Ecology Progress Series, 441: 141-149

Book chapters
Tricarico E, Amodio P, Ponte G, Fiorito G. (2014). Cognition and Recognition in the Cephalopod Mollusc Octopus vulgaris: Coordinating Interaction with Environment and Conspecifics. In: Biocommunication of Animals (ed. Witzany, G.), pp. 337-349. Springer Netherlands

Other pubblications
Shaw T, Osborne M, Ponte G, Fiorito G, Andrews P. (2014). Mechanisms of wound closure following acute amputation injury in Octopus vulgaris. Wound Repair and Regeneration, 22: A97-A97.

Ponte G, Edelman DB, Fiorito G (2011). Anti-Hrp epitope in Octopus vulgaris neural tissue: the first among lophtrochozoans. J Shellfish Res 30:1018

Pagano E, Ponte G, Andrews PLR, Fiorito G (2011). A comparative analysis of different anaesthetics in octopus: towards true anaesthesia? J Shellfish Res 30:1016

Choe Y, Abbott LC, Ponte G, Keyser J, Kwon J, Mayerich D, Miller D, Han D, Grimaldi AM, Fiorito G, Edelman DB, McKinstry J L. (2010). Charting out the octopus connectome at submicron resolution using the knife-edge scanning microscope. BMC Neuroscience, 11: 136