Salta il contenuto e passa al menu a fondo pagina
You are here:
Home

Staff

List of Personnel

Affuso Andrea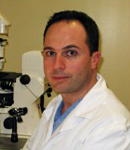 Technologist
Section RIMAR Unit Acquario
Tel. +39 081 5833222
Fax: +39 081 5833294
e-mail andrea.affuso(at)szn.it
Skype: andreaaffuso
Research interests
Expand knowledge and improve medical practices in veterinary medicine for the prevention and treatment of diseases in marine organisms kept in captivity. These activities are mainly applied: to improve the housing procedures for the optimization of the environmental conditions in order to make them as responsive as possible to the needs of the different species housed and to reduce the risk of contamination by potentially dangerous microorganisms; to the health monitoring; to the diagnosis and treatment of diseases affecting marine organisms kept in captivity. Concerning subjects retrieved and transferred to the sea turtle rescue center, the veterinary surgeon support aims to improve therapeutic approaches in order to return to these subjects optimal health conditions, compatible with the release to wild.
Selected Publications
Amendola E, De Luca P, Macchia PE, Terracciano D, Rosica A, Chiappetta G, Kimura S, Mansouri A, Affuso A, Arra C, Macchia V, Di Lauro R, De Felice M. (2005) A mouse model demonstrates a multigenic origin of congenital hypothyroidism. Endocrinology. 146(12):5038-47.

Cali G, Zannini M, Rubini P, Tacchetti C, D'Andrea B, Affuso A, Wintermantel T, Boussadia O, Terracciano D, Silberschmidt D, Amendola E, De Felice M, Schutz G, Kemler R, Di Lauro R, Nitsch L. (2007) Conditional inactivation of the E-cadherin gene in thyroid follicular cells affects gland development but does not impair junction formation. Endocrinology 148(6):2737-46. PMID: 17347311

Mancini M, Vergara E, Salvatore G, Greco A, Troncone G, Affuso A, Liuzzi R, Salerno P, Scotto di Santolo M, Santoro M, Brunetti A, Salvatore M. (20099) Morphological ultrasound microimaging of thyroid in living mice. Endocrinology. 2009 Oct;150(10):4810-5.

Esposito CL, Passaro D, Longobardo I, Condorelli G, Marotta P, Affuso A, de Franciscis V, Cerchia L. (2011) A Neutralizing RNA Aptamer against EGFR Causes Selective Apoptotic Cell Death. PLoS One; 6(9):e24071. Epub 2011 Sep 6.

Gargiulo S, Greco A, Gramanzini M, Esposito S, Affuso A, Brunetti A, Vesce G. (2012) Mice anesthesia, analgesia, and care, part I: anesthetic considerations in preclinical research. ILAR J. 53(1):55-69. doi: 10.1093/ilar.53.1.55. PMID: 23382271

Gargiulo S, Greco A, Gramanzini M, Esposito S, Affuso A, Brunetti A, Vesce G. (2012) Mice Anesthesia, Analgesia, and Care, Part II: Anesthetic Considerations in Preclinical Imaging Studies. ILAR J.;53(1):70-81. doi: 10.1093/ilar.53.1.70. PMID: 23382272

Notarangelo A. , D. Trombetta, V. D'Angelo, P. Parrella, O. Palumbo, C. T. Storlazzi, L. Impera, L. A. Muscarella, A. La Torre, A. Affuso, V. M. Fazio, M. Carella and L. Zelante. (2014) Establishment and genetic characterization of ANGM-CSS, a novel, immortal cell line derived from a human glioblastoma multiforme INT. J. ONC. 2014 - 44: 717-724, DOI: 10.3892/ijo.2013.2224

Fiorito G, Affuso A, Anderson DB, Basil J, Bonnaud L, Botta G, Cole A, D'Angelo L, De Girolamo P, Dennison N, Dickel L, Di Cosmo A, Di Cristo C, Gestal C, Fonseca R, Grasso F, Kristiansen T, Kuba M, Maffucci F, Manciocco A, Mark FC, Melillo D, Osorio D, Palumbo A, Perkins K, Ponte G, Raspa M, Shashar N, Smith J, Smith D, Sykes A, Villanueva R, Tublitz N, Zullo L, Andrews P. (2014) Cephalopods in neuroscience: regulations, research and the 3Rs. Invert Neurosci. 2014 Mar;14(1):13-36. DOI: 10.1007/s10158-013-0165-x. Epub 2014 Jan 3.

Bellelli R, Castellone MD, Guida T, Limongello R, Dathan NA, Merolla F, Cirafici AM, Affuso A, Masai H, Costanzo V, Grieco D, Fusco A,Santoro M, Carlomagno F. (2014) NCOA4 transcriptional coactivator inhibits activation of DNA replication origins. Mol Cell. 2014 Jul 3;55(1):123-37. DOI: 10.1016/j.molcel.2014.04.031.

Porreca I, D'Angelo F, Gentilcore D, Carchia E, Amoresano A, Affuso A, Ceccarelli M, De Luca P, Esposito L, Guadagno FM, Mallardo M, Nardone A, Maccarone S, Pane F, Scarfò M, Sordino P, De Felice M, Ambrosino C. (2014) Cross-species toxicogenomic analyses and phenotypic anchoring in response to groundwater low-level pollution. BMC Genomics. 5;15:1067. doi: 10.1186/1471-2164-15-1067.