Salta il contenuto e passa al menu a fondo pagina
You are here:
Home

Staff

List of Personnel

Santin Anna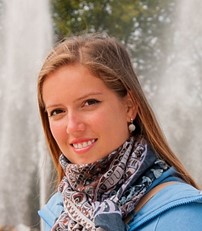 Ph. D. Student
Integrative Marine Ecology Department (EMI)
Stazione Zoologica Anton Dohrn
Villa Comunale
80121 Napoli - Italia
Tel.: +39 081 5833211
Fax: +39 081 7641355
E-mail: This email address is being protected from spambots. You need JavaScript enabled to view it.
Skype: anna.santin92

Director of Studies: Dr. Maria Immacolata Ferrante
Internal Supervisor: Dr. Alessandra Rogato
External Supervisor: Dr. Angela Falciatore
Program: Open University, XXI cycle
Research Interests
Diatoms are the major and most diverse group of phytoplankton. Their adaptive capacity suggests that they have developed sophisticated mechanisms to perceive and respond to environmental variations. Marine diatoms are often exposed to unpredictable environmental conditions changes. In particular, nitrogen (N) concentration in the ocean shows significant temporal and spatial variability, which affects growth and the distribution of phytoplankton. The molecular mechanisms that allow diatoms to efficiently cope with N availability remain largely unknown. Recent genomics and metagenomics studies (Rogato et al., 2015; Busseni et al., 2019) uncovered an unexpected complexity and revealed that diatoms host a larger suite of N transporters than one would expect for a unicellular organism. The project aims at investigating the molecular mechanisms of N sensing and uptake in marine diatoms, focusing on the identification and functional characterization of specific proteins. For example, the low and high affinity nitrate family tranporters (NPF/NRT2) are expected to be of particular relevance because nitrate represents the major N source in the ocean. For this reason, taking advantage of recent advances in diatom genomics and combining genome-enabled tools with classical ecophysiological and biophysical approaches, the project aims to provide a springboard to shed light on the evolutionary advantages of N metabolism in diatoms. Moreover, these studies will have an impact on creating novel genetic resources and possible biotechnological applications.