Salta il contenuto e passa al menu a fondo pagina
You are here:
Home

Staff

List of Personnel

Ruocco Miriam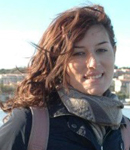 Post Doc
Integrative Marine Ecology Department
Tel. +39 081 5833236
Fax: +39 081 7641355
e-mail miriam.ruocco(at)szn.it; miriamruocco86(at)gmail.com
Skype: miriam.ruocco
Procaccini's Group website
Research interests
Despite their key ecological value, coastal ecosystems such as seagrass meadows are experiencing a progressive decline, due to a number of threats associated to human activities along the coastline, as well as current climate changes. Investigation of the effects of climate and non-climate stressors on seagrasses became crucial, in order to determine both the physiological response, and the potential adaptive response of the species. Effects of single environmental stressors have been extensively studied in different seagrass species, both in natural and controlled conditions. Nonetheless, in natural environments, those stressors often do not act in isolation, but additive, synergistic or antagonistic effects occur.
In view of the above, my PhD project aims to investigate the effects of "multiple stressors" in seagrasses. The combined effects of pairs of factors (e.g. temperature vs. light; temperature vs. CO2 and light vs. CO2) are investigated looking at the expression of target genes by RT-qPCR. The photophysiological response is assessed looking at changes in the pigmentary pool, as well as characterizing the functionality and structure of the photosynthetic apparatus through chlorophyll a fluorescence measures. Changes in the morphology of the plants are considered, as well as changes in some plant fitness traits.
Project results will be useful for designing new management strategies of coastal resources allowing to move away from the impact-by-impact framework, to which management processes are strongly focused and providing new generation of early warning indicators for environmental assessment.
Selected Publications
Lauritano C., Ruocco M., Dattolo E., Buia M.C., Silva J., Santos R., Olivé I., Costa M. M., Procaccini G. (2015) Response of key stress-related genes of the seagrass Posidonia oceanica in the vicinity of submarine volcanic vents. Biogeosciences 12(13):4185-4194.
Ruocco M., Procaccini G., Musacchia F., Sanges R., Olivé I., Costa M. M., Barrote I., Santos R., Silva J. (2015) Cymodocea nodosa response to simulated CO2-driven ocean acidification: a first insight from global transcriptome profiling. PeerJ PrePrints 3:e1297 http://dx.doi.org/10.7287/peerj.preprints.1057v1
Dattolo E., Ruocco M., Brunet C., Lorenti, M., Lauritano C., D'Esposito D., De Luca P., Sanges R., Mazzuca, S., Procaccini G. (2014) Response of the seagrass Posidonia oceanica to different light environments: Insights from a combined molecular and photo-physiological study. Marine Environmental Research. http://dx.doi.org/10.1016/j.marenvres.2014.07.010
Mazzuca S., Björk M., Beer S., Felisberto P., Gobert S., Procaccini G., Runcie J., Silva J., Borges A., Brunet C., Buapet P., Costa M. M., D' Esposito D., Gullström M., Lejeune P., Lepoint G., Olivé I., Rasmusson L., Richir J., Ruocco M., Serra I.A., Spadafora A., Santos R. (2013) Establishing research strategies, methodologies, and technologies to link genomics and proteomics to seagrass productivity, community metabolism and ecosystem carbon fluxes. Front Plant Sci.4:38. doi: 10.3389/fpls.2013.00038.
Ruocco M., Brunet C., Lorenti M., Lauritano C., D'Esposito D., Riccio M., Procaccini G. (2012) Posidonia oceanica photoadaptation to the depth gradient. Biol. Mar. Mediterr.19 (1): 63-64.