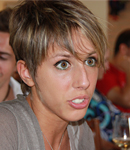 Scholarship
Integrative Marine Ecology Department
Tel. +39 081 5833514
Fax: +39 081 7641355
e-mail giulia.valvassori(at)szn.it
Skype: giuliavalvassori
Research interests
My PhD thesis is entitled "Integrative biology of a model polychaete species, Platynereis dumerilii and role of climatic related factors (temperature and ocean acidification) on the occurrence and life history of putative sibling species". It is a multidisciplinary project focused on the study of a model polychaete species, Platynereis dumerilii, to evaluate the effects of different environmental stressors, such as global warming and ocean acidification, on its cryptic speciation. The proposed PhD project is aimed to study 6 populations of the nominal P. dumerilii, sampled in at least 4 geographic areas situated along the Italian coasts following a thermo-latitudinal gradient, where putative sibling species occur: La Spezia (Ligurian Sea), Ischia island (Tyrrhenian Sea) (with population inside and outside the CO2 vents), Vulcano island (Sicily) (inside and outside the acidified vent area), and in the Ionian sea (Apulia, Ionian Sea). The collected specimens are subjected to detailed morphological and morphometric analyses of each population; laboratory rearing of each population to study the life history traits and reproductive output and timing; genotyping of each population to verify the occurrence of sibling species; laboratory experiments on selected populations/genotypes, to study physiological responses of the metabolic activity to variability of pH and temperature; related all the above features to verify the role of climate factors and stressors on the possible cryptic speciation of P. dumerilii. The biological implications of discovering cryptic species in a taxon widely used as an emerging model for the Evo-Devo and neurophysiology, are far reaching.
Journal Papers
Valvassori G., Massa-Gallucci A., Gambi M.C. (2015). Reappraisal of Platynereis massiliensis (Moquin-Tandon) (Annelida, Nereididae), a neglected sibling species of Platynereis dumerilii (Audouin & Milne Edwards). Biol. Mar. Mediterr. in press.

Wäge J., Rotchell J.M., Gambi M.C., Valvassori G., Schulze A., Hardege J.D. (under submission). The polychaete siblings Platynereis dumerilii and Platynereis massiliensis: Phylogenetic and gene expression studies on a postulated pH adapted model species at oceanic CO2 vents at Ischia (Italy). Mar. Biol.