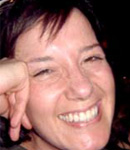 Post Doc
Section EMI
Tel. +39 081 5833212
Fax: +39 081 7641355
e-mail valeria.ruggiero(at)szn.it
Research interests
Addressing the question of the origin and maintenance of genetic structure and diversity in phytoplanktonic species is of fundamental importance to understand the population dynamics of these species, their capability to face and adapt to environmental changes and the possible mechanisms of speciation.
As a population geneticist, my interest focuses on understanding the mechanisms underlying the genetic structure of natu al populations of phyoplanktonic organisms, with special focus on the pennate diatom genus Pseudo-nitzschia. Many species in the genus are known to produce domoic acid, a neurotoxin harmful to humans.
Among these, Pseudo-nitzschia multistriata is becoming a model species for diatoms, as its genome has been sequenced and crossing for genetic studies is feasibile. The availability of genomic resources, which allowed me to obtain a panel of microsatellite loci and the possibility of regular sampling at the LTER-MareChiara (Gulf of Naples, Italy), consent a detailed, fine-scale study of the genetic diversity and structure of the species along both a spatial and a temporal scale, the object of my current studies.
Journal Papers
Ruggiero MV, Reusch TBH and Procaccini G (2005). Local genetic structure in a clonal dioecious angiosperm. Mol. Ecol., 14: 957–967

Ruggiero M.V., Capone S, Pirozzi P, Reusch TBH and Procaccini G (2005). Mating system and clonal architecture: a comparative study in two marine angiosperms. Evol. Ecol., 19: 487-499

Ruggiero MV, Jacquemin B, Castric V and Vekemans X (2008). Hitch-hiking to a locus under balancing selection: high sequence diversity and low population subdivision at the S-Locus genomic region in Arabidopsis halleri. Genet. Res., 90:37-46

Zapata M, Rodriguez F, Fraga S, Barra L, Ruggiero MV (2011). Chlorophyll C Pigment patterns in 18 species (51 strains) of the genus Pseudo-nitzschia (Bacillariophyceae). J Phycol., 47:1274-1280

Roux C, Pauwels M, Ruggiero MV, Charlesworth D, Castric V and Vekemans X (2013). Recent and ancient signature of balancing selection around the S-locus in Arabidopsis halleri and A. lyrata. Mol. Biol. Evol., 30:435-47

Barra L, Ruggiero MV, Sarno D, Montresor M and Kooistra WHCF (2013). Strengths and weaknesses of microarray approaches to detect Pseudo-nitzschia species in the field. Environ. Sci. Pollut. R., 20:6705-6718

Lamari N, Ruggiero MV, d'Ippolito G, Kooistra WHCF, Fontana A, Montresor M. (2013). Specificity of Lipoxygenase Pathways Supports Species Delineation in the Marine Diatom Genus Pseudo-nitzschia. PLoS ONE 8(8): e73281. doi:10.1371/journal.pone.0073281

Barra L, Ruggiero MV, Chen J, Kooistra WHCF (2014). Specificity of LSU rRNA- targeted oligonucleotide probes for Pseudo-nitzschia species tested through dot-blot hybridisation. Environ. Sci. Pollut. R., 21:548-57

Smida B, Lundholm N, Kooistra WHCF, Sahraoui I, Ruggiero MV, Kotaki Y, Ellegaard M, Lambert C, Mabrouk HH, Hlaili AS (2014). Morphology and molecular phylogeny of Nitzschia bizertensis sp. nov. - a new domoic acid- producer. Harmful Algae, 32: 49-63

Ruggiero MV, Sarno D, Barra L, Kooistra WHCF, Montresor M and Zingone A (2015). Diversity and temporal pattern of Pseudo-nitzschia species (Bacillariophyceae) through the molecular lens. Harmful Algae, 42:15-24