Secretariat
Giovanna Di Gennaro (Tel. +39 081 5833215)
Margherita Groeben (Tel. +39 081 5833310)
Fax: + 39 081 7641355
E-mail: presidenza(at)szn.it
Prof. Roberto Danovaro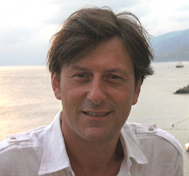 Roberto Danovaro was born in Genoa, where he obtained the degrees in Biology in 1988 and the PhD in Marine Environmental Sciences at the University of Pisa in 1993. RD became Assistant Professor in 1994-1995 (at the University of Ancona), Associate Professor in 1998 (University of Bari) and Full Professor in 2001 (University of Padua, but immediately called at the Polytechnic University of Marche). Member of the Doctorate in Marine Biology and Ecology and Coordinator of the International Master degree in Marine Biology. Founder of the first Laurea Specialistica in Italy (Master Degree) in Environmental Sustainability and Civil Protection.
Director of the Department of Marine Sciences (2004 to 2010), Director of the Department of Life and Environmental Sciences (2011 to 2014) at the Polytechnic University of Marche, Dean of the Faculty of Science till 2014. Pro-Rector (delegated to the Research) at the Polytechnic University of Marche until 2013.
RD has published his research on more than 60 different international ISI top-ranked journals, including: Nature (RD had a cover of the journal in 2008 and one Article listed in the top 20 articles of the year of Nature), Science, Nature communications, Nature protocols, PNAS, FEMS Microbiology Reviews, Ecology Letters, Trends in Ecology and Evolution, Plos Biology, Current Biology, Biological Review, ISME Journal, Environmental Health Perspectives, Environmental Microbiology, Scientific Reports (Nature) and BMC Biology,
Roberto Danovaro has published 3 books (including: Danovaro R. Methods for the study of deep-sea sediments, their functioning and biodiversity. CRC Press, Taylor & Francis (London), 456 pp. in English for CRC Press, USA)
From 2013 is President of the Stazione Zoologica Anton Dohrn (the oldest research institution in Italy founded in 1872, the only one with seat in the South of Italy).
Honors and Awards
• Award ENI "Protection of the Environment" received from the President Giorgio Napolitano (the only Italian winner of the prize so far, 2013).
• Nominated Member of the Faculty of 1000 Biology (Section Ecology)
• Award Médaille de la Société Océanographique de France pour l'Année 2010 Institute Oceanographique de Paris (conferred in Paris by the Prince of Monaco in 2011).
• Award BioMedCentral: Biology Prize for 2010 (London, June, 2011).
• Member of Top Italian Scientists - VIA Academy (since 2010).
• Honorary member of the Board of Research and Reports in Biodiversity Studies.
Curriculum Vitae del prof. Roberto Danovaro