Salta il contenuto e passa al menu a fondo pagina
You are here:
Home

Staff

List of Personnel

Volpe Massimiliano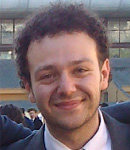 PhD Student SZN-OU
Section BEOM
Tel. +39 081 5833428
Fax: +39 081 7641355
e-mail mas.volpe(at)gmailcom
Research interests
My scientific interest is in understanding the evolution of transposable elements (TEs) to understand if and how they are related to the evolution of cellular complexity. I will develop specific bioinformatics pipelines to evaluate how these features of the genome are evolutionary related and how they shaped the eukaryotic genomes and complexity. The better understanding of the evolution and the functional impact of TEs is also important from a biotechnological perspective, indeed the unique characteristic of these elements, to specifically bind, edit and modify any genome, make them an attractive system for a vast repertoire of molecular applications.
Journal Papers
Passaro C, Massimiliano Volpe, Ginevra Botta, Eloise Scamardella, Giuseppe Perruolo, David Gillespie, Silvana Libertini and Giuseppe Portella. PARP inhibitor Olaparib increases the oncolytic activity of dl922-947 in in vitro and in vivo model of anaplastic thyroid carcinoma. Mol Oncol, 2015 Jan;9(1):78-92. doi: 10.1016/j.molonc.2014.07.022.

Passaro C, Abagnale A, Libertini S, Volpe M, Botta G, Cella L, Pacelli R, Halldèn G, Gillespie DA, Portella G. Ionizing radiation enhances dl922-947-mediated cell death of anaplastic thyroid carcinoma cells. Endocr Relat Cancer, 2013 Aug 19;20(5):633-47. doi: 10.1530/ERC-13-0001.