Salta il contenuto e passa al menu a fondo pagina
You are here:
Home

Staff

List of Personnel

Migliaccio Oriana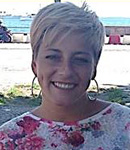 Post Doc
Section BEOM
Tel. +39 081 5833276
Fax: +39 081 7641355
E-mail: oriana.migliaccio(at)szn.it
Skype: oriana.migliaccio(at)gmail.com
Research interests
I am marine biologist with biochemical, eco-physiological and molecular competences, particularly interested to the effects of global changes (e.g. ocean acidification, pollution, toxic algal blooms, warming) on aquatic organisms. I use a multidisciplinary approach to understand how environmental pressures influence organisms' health, identifying the key mechanisms which make animals sensitive or robust to these changes. Currently I am analysing by laboratory and in situ experiments, the effects of metal ions, harmful algal blooms and ocean acidification on sea urchins adults and developing embryos. My research is also directed to investigate the role played by nitric oxide (NO) in both physiological and stressful conditions. I study nitric oxide formation and its signalling at gene and protein level to identify NO-mediated mechanisms underlying the animal's response to environmental changes. This opens new perspectives on the role of NO as a sensor of different stress agents in marine organisms.
Journal Papers
Uliano E, Cataldi M, Carella F, Migliaccio O, Iaccarino D, Agnisola C. (2010). Effects of acute changes in salinity and temperature on routine metabolism and nitrogen excretion in gambusia (Gambusia affinis) and zebrafish (Danio rerio). Comparative Biochemistry and Physiology, Part A 157:283–290

Migliaccio O, Castellano I, Romano G, Palumbo A. (2014). Stress response to cadmium and manganese in Paracentrotus lividus developing embryos is mediated by nitric oxide. Aquat. Toxicol. 156: 125–134

Migliaccio O, Castellano I, Cirino P, Romano G, Palumbo A. (2015). Maternal exposure to cadmium and manganese impairs reproduction and progeny fitness in the sea urchin Paracentrotus lividus PLoS ONE. 10(6): e0131815

Book chapters
Migliaccio O, Castellano I, Romano G, Palumbo A. (2014). Response of Sea Urchin to Environmental Stress, 29-51 in: Sea urchins: habitat, embryonic development and importance in the environment. Nova Publisher, ISBN: 978-1-63321-517-7