Salta il contenuto e passa al menu a fondo pagina
You are here:
Home

Staff

List of Personnel

Tutar Özge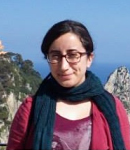 PhD Student
Section EMI
Tel. +39 081 5833236
Fax: +39 081 7641355
Skype: ozgetutar
Research interests
My thesis study is based on two projects which will be used to relate the effect of latitudinal difference of temperature on gene structure of Turkish coastline population of Posidoniaoceanica.
First project aims genetic characterization of Posidonia oceanica populations along the coasts of Turkey, from where no extensive data are available, and the comparison with other Mediterranean populations, in order to assess phyletic relationships and origin of Turkish populations. This project is developed within the framework of RITMARE project.
Second project aims to understand gene expression response of shallow and deep Posidonia oceanica and Cymodocea nodosa plants to oxidative stress which is induced by a short-term and long-term simulated heat wave. These experiments are carried on by HEATGRASS and RECCAM projects.