Salta il contenuto e passa al menu a fondo pagina
You are here:
Home

Staff

List of Personnel

Tedesco Perla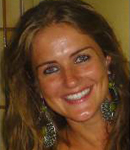 PostDoc
Section BEOM
Tel. +39 081 5833281
Fax: +39 081 7641355
e-mail perla.tedesco2(at)gmail.com
Skype: perla.tedesco
Research Interests
My current research is focused on the identification and characterization of parasites and potentially pathogenetic infectious agents associated with marine organisms, with special respect to cephalopod hosts. Information on the parasitic fauna of marine vertebrates and invertebrates in Mediterranean is still scarce and mostly subject to taxonomic uncertainty. Moreover the potential effect of infectious agents on their marine hosts at a biological and ecological level is still far from being fully understood. For my research I use microscopy and electron microscopy techniques (SEM and TEM), and molecular tools in order to characterize marine infectious agents and assess their effect on the growth, physiology, behaviour and welfare of hosts.
Journal Papers
Vendramin, N., Patarnello, P., Toffan, A., Panzarin, V., Cappellozza, E., Tedesco, P., Terlizzi, A., Terregino, C. and Cattoli, G. (2013) - Viral Encephalopathy and Retinopathy in groupers (Epinephelus spp.) in southern Italy: a threat for wild endangered species? BMC Veterinary Research 2013, 9:20

Moravec, F.andTedesco,P. (2015). Redescription of Philometra globiceps (Rudolphi, 1819) (Nematoda: Philometridae), the type species of Philometra Costa, 1845, including the first data obtained by SEM. Parasitology Research(Epub ahead of print)available online: (last visited, 21/09/2015) http://link.springer.com/article/10.1007%2Fs00436-015-4681-y

Terlizzi, A., Tedesco, P. and Patarnello, P. (2012) - Spread of Pathogens from Marine Cage Aquaculture - A Potential Threat for Wild Fish Assemblages Under Protection Regimes? In Health and Environment in Aquaculture. Edited by Carvalho ED, David GS, Silva RJ. Printed in Croatia: InTech, Janeza Trdine 9, 51000 Rjieka, Croatia; 2012:403-414.