Salta il contenuto e passa al menu a fondo pagina
You are here:
Home

Staff

List of Personnel

Sabatino Valeria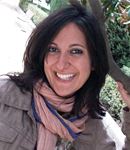 PhD Student UNINA
Section EMI
Tel. +39 081 5833211
e-mail valeria.sabatino(at)szn.it
Research interests
As a molecular biologist and biotechnologist, I applied my knowledge to human cellular studies first and then to diatoms. My research project focuses on a trans-disciplinary investigation of lipid pathways in diatoms. Through the development of methods for genetic manipulation and with molecular studies of sulfotransferase-mediated and LOX pathways in Pseudo-nitzschia arenysensis and Thalassiosira pseudonana species I will elucidate the biochemical steps involved, exploiting genetic resources.
Journal Papers
Sabatino, V., Russo, M.T., Patil, S., d'Ippolito, G., Fontana, A., Ferrante, M.I. (2015) "Establishment of genetic transformation in the sexually reproducing diatoms Pseudo-nitzschia multistriata and Pseudo-nitzschia arenysensis and inheritance of the transgene." Mar Biotechnol (NY). Aug;17(4):452-62. doi: 10.1007/s10126-015-9633-0.

Piccolo, P., Mithbaokar, P., Sabatino, V., Tolmie, J., Melis, D., Schiaffino, M.C., Filocamo, M., Andria, G., Brunetti-Pierri, N. (2014) "SMAD4 mutations causing Myhre syndrome result in disorganization of extracellular matrix improved by losartan." Eur J Hum Genet. doi:10.1038/ejhg.2013.283