Salta il contenuto e passa al menu a fondo pagina
You are here:
Home

Staff

List of Personnel

Piredda Roberta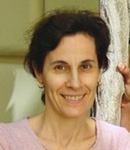 Post Doc
Section EMI
Tel. +39 081 5833356
Fax: +39 081 7641355
e-mail roberta.piredda(at)szn.it
Research interests
DNA barcoding links each species to a unique DNA sequence, whereas environmental DNA (eDNA) or metabarcoding uses this linkage to identify taxa from natural communities. Molecular data from eDNA generated using Next-Generation Sequencing (NGS) are increasing and changing our way to monitor natural communities at spatial and temporal scales, offering the possibility to integrate them in resources conservation and management plans. However, standardised protocols to identify, delimiting and quantifying species from molecular NGS data are still being developed. NGS data collected at the long term station LTER-MC, in the Gulf of Naples, provide a strong framework to establish both the potential applications and the limitations of this approach. With this aim, I'm currently analysing 18S and 16S amplicons obtained on an Illumina platform from eDNA collected over three consecutive years. Using bioinformatics tools on these data, I investigate community diversity at several taxonomic levels, from the whole protist assemblage to specific groups (e.g. Bacillariophyta and Dinophyta) or key genera. I am also analysing of amplicons from the European project BioMarKs to assess biodiversity differences among several coastal ecosystems. My broad interest is molecular evolution, with emphasis on processes which lead to selection, diversification and taxonomic complexity, and application of methods for rapid and objective characterization of species diversity.
Journal Papers
Schirone B, Caetano-Ferreira R, Vessella F, Schirone A, Piredda R, Simeone MC (2010) Taxus baccata in the Azores: a relict form at risk of imminent extinction. Biodiversity and Conservation, 19, 1547–1565

Piredda R., Simeone M.C., Attimonelli M, Bellarosa R, Schirone B (2010). Prospects of barcoding the Italian wild dendroflora: oaks reveal severe limits to track species identity. Molecular Ecology Resources, ISSN: 1755-098X, doi: 10.1111/j.1755-0998.2010.02900.x

Ferreira R, Piredda R, Bagnoli F, Bellarosa R, Attimonelli M, et al. (2011) Phylogeography and conservation perspectives of an endangered Macaronesian endemic: Picconia azorica (Tutin) Knobl. (Oleaceae). European Journal of Forest Research 130: 181–195. doi: 10.1007/s10342-010-0420-1

Rubino F, Piredda R, Calabrese FM, Simone D, Lang M, Calabrese C, Petruzzella V, Tommaseo-Ponzetta M, Gasparre G, Attimonelli M. (2011): HmtDB, a genomic resource for mitochondrion-based human variability studies. Nucleic Acid Research. doi:10.1093/nar/gkr1086

Armenise L., Simeone M.C., Piredda R., Schirone B. (2011) Validation of DNA barcoding as an efficient tool of taxon identification and detection of species diversity in Italian Conifers. European Journal Of Forest Research, doi.org/10.1007/s10342-012-0602-0

Petruzzella V, Carrozzo R, Calabrese C, Dell'aglio R, Trentadue R, Piredda R, Artuso L, Rizza T, Bianchi M, Porcelli AM, Guerriero S, Gasparre G, Attimonelli M. (2012): Deep sequencing unearths Nuclear mitochondrial Sequences under Leber's hereditary optic neuropathy-associated false heteroplasmic mitochondrial DNA variants. Hum. Mol. Genet., 21(17):3753-64. Epub 2012 May 15. doi: 10.1093/hmg/dds182

T. Kirin, A. Laiou, M.P. Tomasino, R. Piredda, L.S. de Buruaga Aldave, B. Schirone, M.C. Simeone (2013). DNA barcoding as an effective tool to complement wetland management: A case study of a protected area in Italy. Plant Biosystems doi.org/10.1080/11263504.2013.868373

Laiou A, Mandolini LA, Piredda R, Bellarosa R, Simeone MC (2013) DNA barcoding as a complementary tool for conservation and valorisation of forest resources. In: Nagy ZT, Backeljau T, De Meyer M, Jordaens K (Eds) DNA barcoding: a practical tool for fundamental and applied biodiversity research. ZooKeys 365: 197–213. doi:10.3897/zookeys.365.5670

Simeone MC, Piredda R, Papini A, Vessella F, Schirone B (2013) Application of plastid and nuclear markers to DNA barcoding of Euro–Mediterranean oaks (Quercus, Fagaceae): problems, prospects and phylogenetic implications. Botanical Journal of the Linnean Society 172, 478-499

Book chapters
Margherita Berardi, Donato Malerba, Piredda Roberta., Marcella Attimonelli, Gaetano Scioscia and Pietro Leo (2008). Biomedical Literature Mining for Biological Databases Annotation. Data Mining in Medical and Biological Research. Chapter 16 in E.G. Giannopoulou (Ed.), Data Mining in Medical and Biological Research, pp. 267-290, IN-TECH Publisher: Vienna ISBN/ISSN: 978-953-7619-30-5

Tamara Kirin, Maria Paola Tomasino, Marco Cosimo Simeone, Sandro Bogdanovi, Roberta Piredda, Bartolomeo Schirone.(2012) Inula verbascifolia biogeographic inferences on a Mediterranean endemic medicinal plant. 6th Annual International Symposium on Environment, 255-264. 16-19 May 2011, Athens, Greece. In Essays on Environmental Studies, ed. Amit Sarin (ISBN 978-960-9549-75-2)