Salta il contenuto e passa al menu a fondo pagina
You are here:
Home

Staff

List of Personnel

Pargana Aikaterini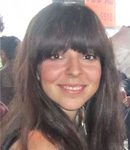 Fellowship
Section EMI
Tel. +39 081 5833224
Fax: +39 081 7641355
e-mail aikaterini.pargana(at)szn.it

Research interests
Diatom growth, physiological plasticity and adaptation, genetic diversity and responses to changes in environmental conditions.

Leptocylindraceae are centric diatoms that occupy a basal position in the diatom phylogeny and are abundant in marine plankton worldwide. Within my PhD, I investigated the transcriptomic profiles of species in this family in order to understand adaptations underlying their seasonal distribution. Using strains of different species or of one species grown in different temperature conditions, my project aimed at detecting significant interspecific as well as intraspecific differences, with a focus on genes related to response to temperature, light, growth and nutrient assimilation. In addition, DNA metabarcoding data collected in three consecutive years at the station LTER-MC (Gulf of Naples), as well as data from BioMarKs and Tara world datasets, were explored to assess the distribution of the species of the family, which are hardly identifiable based on their morphology in light microscopy. I am also involved in the research project MetaTrac, which includes whole transcriptome analysis of candidate diatom species and metatranscriptomics analysis of bloom events at LTER-MC.