Salta il contenuto e passa al menu a fondo pagina
You are here:
Home

Staff

List of Personnel

Kumari Richa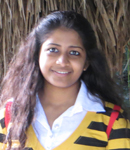 PhD Student
Section EMI
Tel. +39 081 5833235 - +39 081 5833320
Fax: +39 081 7641355
e-mail richa.kumari(at)szn.it
Skype: kumari.richa2
Research interests
Bacterioplankton are the key components of the biogeochemical cycles in the marine ecosystem. Therefore, richness and evenness of the bacterial communities is crucial for the way the ecosystem functions and needs regular monitoring in order to have a proper assessment of the ecosystem health and functioning. Furthermore, functional potential of a specific population can be different from that of the total community and each population of a community can have different degree of influence on the ecosystem. So, it is also important to estimate the functional potential of each population within the different bacterial communities so as to understand their individual contribution to the ecosystem processes. Community structure and function of the bacterial assemblages are influenced by combined interaction of many biotic and abiotic factors which are highly dynamic in marine environment, especially in the coastal areas.
My study aims to investigate the diversity, community composition and functional potential of bacterial communities in the Gulf of Naples (Mediterranean Sea), using Flow Cytometry and Next-Generation Sequencing of the 16S rDNA (16S rRNA gene) and 16S rRNA. I am interested to understand how the structure and functional potential of the bacterial communities vary at space and time, which are the principal environmental factors that govern these changes, and if bacterial signatures are indicators of the trophic condition of the environments under investigation.
Journal Papers
Singh K, Richa K, Bose H, Karthik L, Kumar G, Bhaskara Rao KV. (2014). Statistical media optimization and cellulase production from marine Bacillus VITRKHB. 3 Biotech 4(6): 591-598.

Richa K, Bose H, Singh K, Karthik L, Kumar G, Bhaskara Rao KV. (2013). Response surface optimization for the production of marine eubacterial protease and its application. Res J Biotechnol 8: 78-85.

Bhaskara Rao KV, Bose H, Richa K, Singh K, Karthik L, Kumar G. (2013). RSM Mediated Optimization of Amylase Production from Marine Bacillus sp. VITRKHB. Research. Res. J. Pharm., Biol. Chem. Sci. 4: 523-536.

Singh K, Bose H, Richa K, Karthik L, Kumar G and Bhaskara Rao KV. (2012). Isolation and characterization of protease producing marine eubacteria. Int. J. Agr. Tech 8(5): 1633-1649.