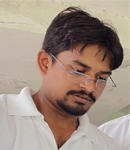 PhD Student
Section EMI
Tel. +39 081 5833505 - +39 081 5833520 - +39 081 5833293
Fax: +39 081 7641355
Skype: ak_air14
Research interests
During my PhD, I have been studying the response of macroalgae to acidification in the natural acidified site, Castello Aragonese, Ischia. Continuous release of CO2 through volcanic vents make it a perfect site to study long term acidification effects on marine organisms. I am combining different approaches including transcriptomics, genetics, biochemistry and photo-physiology to understand the response of Sargassum vulgare to the acidification. This study may help us to understand how fleshy macroalage may respond in the future ocean.
Journal Papers
Murgan P, A Kumar, M. Anand, AKK Kumaraguru, P. Palanikumar, Influence of pH on Calcification and Biomarker enzymes of soft shell wedge clam Donax faba (Gmelin). Proceedings of International conference on Impact of Climate Change on Coastal Ecosystem (ICC – ECO 2011) Sathyabama University, Jeppiaar Nagar, Chennai, India, 141-145.

Garrard SL, R.C. Hunter, A.Y. Frommel, A.C. Lane, J.C. Phillips, R. Cooper, R. Dineshram, U. Cardini, S.J. McCoy, M. Arnberg, B.G. Rodrigues Alves, S. Annane, M.R. Orte, A. Kumar, G.V. Aguirre-Martínez, R.H. Maneja, M.D. Basallote, F. Ape, A. Torstensson, M.M. Bjoerk, Biological impacts of ocean acidification: a postgraduate perspective on research priorities, Marine Biology 160 (2013) 1789-1805.

Ravindran J, E. Kannapiran, B. Manikandan, K. Francis, S. Arora, E. Karunya, A. Kumar, S.K. Singh, J. Jose, UV-absorbing bacteria in coral mucus and their response to simulated temperature elevations, Coral Reefs 32 (2013) 1043-1050S.

Kumar A, D. Sen, P. Bhadury, Unraveling free-living marine nematode community structure from a biodiversity-rich tropical coastal setting based on molecular approaches, Marine Biodiversity (2014) 1-11

Harvey, B. Al-Janabi, S. Broszeit, R. Cioffi, A. Kumar, M. Aranguren-Gassis, A. Bailey, L. Green, C. Gsottbauer, E. Hall, M. Lechler, F. Mancuso, C. Pereira, E. Ricevuto, J. Schram, L. Stapp, S. Stenberg, L. Rosa, Evolution of Marine Organisms under Climate Change at Different Levels of Biological Organisation, Water 6 (2014) 3545-3574.

Kumar A, I. Castellano, F.P. Patti, A. Palumbo, M.C. Buia, Nitric oxide in marine photosynthetic organisms, Nitric Oxide 47 (2015) 34-39.

Book chapters
Bhadury P, A Kumar, M Maiti, Nesting status of Sea Turtles in West Bengal-The East Midnapore scenario. In Marine Turtles along the Indian Coast (Ed Kurian A), WWF-India, (2013) pp 85-91.