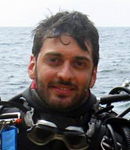 PhD Student
Section EMI
Tel. +39 081 5833505
Fax: +39 081 984201
e-mail daniele.grech(at)szn.it
Skype: daniele86g
Research interests
Macroalgae of the genus Cystoseira are amongst the most important habitat-forming species on rocky substrate of the Mediterranean Sea with ca. 30 species forming very productive and complex systems at different depths. They are experiencing substantial decline in many shallow coastal waters of the Mediterranean Sea due to increase of water turbidity, eutrophication, competition with alien invasive species, mussels, overgrazing by salpa or sea urchins, habitat destruction, global climate changes. Furthermore, also deep water Cystoseira spp. have disappeared over the last 30-40 years from several localities where they were previously known to exist, both on the continental Mediterranean coasts and on isolated islands. Thus, Cystoseira spp, for their sensitivity to environmental changes can be excellent indicators of anthropogenic disturbances.
In the Gulf of Naples, the occurrence of Cystoseira spp. has recently been evaluated in historical sites. Preliminary results indicate a loss of species in shallow waters since the end of 19th century but a scarce knowledge on their distribution; up to date, there is no information on deep species previously recorded. As a consequence, the implementation of basic research activities is a necessary step to guarantee conservation of Mediterranean biodiversity and underwater seascapes.
The main objectives of the PhD are to fill the lack of knowledge on the occurrence of Cystoseira spp. in the Gulf of Naples, where sectors with different pressures and anthropogenic impacts exist. The structure, typology and phenology of Cystoseira assemblages will be investigated and the influence of biological interactions (grazers pressure such as fishes and sea urchins) and nutrients will be evaluated.
Journal Papers
Grech D., Chiarore A., Fioretti S., Kumar A., Mulas M., Buia M.C., Patti F.P. (2015) - The importance of an integrated approach in the study, conservation and restoration of Fucales. Biologia Marina Mediterranea 22(1): 32-33 (in press).

Ponti M, Perlini R.A., Ventra V., Grech D., Abbiati M., Cerrano C. (2014). Ecological Shifts in Mediterranean Coralligenous Assemblages Related to Gorgonian Forest Loss. PLoS ONE 9(7): e102782. doi:10.1371/journal.pone.0102782

Ponti M., Perlini R.A., Ventra V., Grech D., Previati M., Hute Stauffer C., Abbiati M., Cerrano C. (2011) Effects of gorgonian forests on the recruitment of epibenthic species. Biologia Marina Mediterranea 18(1): 89-92. (PDF)