Salta il contenuto e passa al menu a fondo pagina
You are here:
Home

Staff

List of Personnel

Grauso Laura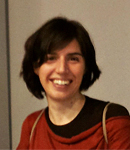 Post Doc
Section MEDA
Tel.: +39 081 5833356
Fax: +39 081 7641355
E-mail: lagrauso(at)unina.it

Research interests
My research is based on the determination of the quality of coastal waters of the Mediterranean Sea to assess the impact of tourism in the marine areas involved in the project "Sustainability and Tourism in the Mediterranean". The coastal water quality is determined by monitoring numerous chemical and biological parameters. In the framework of the project, my attention is focused on the quantitative analysis of major inorganic nutrients (ammonium, nitrite, nitrate, phosphate, and silicate) by means of an automatic continuous flow analyzer, through standardized methods validated by the scientific community. My role also includes the development and optimization of new analytical methods to increase the sensitivity and efficiency of the analysis, decreasing the duration of the analyses and the volumes of samples needed for each analysis.
Journal Papers
Grauso L, Mariggiò S, Corda D, Fontana A, Cutignano A (2015) An Improved UPLC-MS/MS Platform for Quantitative Analysis of Glycerophosphoinositol in Mammalian Cells. PLoS ONE, 10(4): e0123198. doi:10.1371/journal. pone.0123198

Gorbi S, Giuliani ME, Pittura L, d'Errico G, Terlizzi A, Felline S, Grauso L, Mollo E, Cutignano A, Regoli F. (2014) Could molecular effects of Caulerpa racemosa metabolites modulate the impact on fish populations of Diplodus sargus? Marine Environmental Research, 96: 2–11

Corda D, Mosca MG, Ohshima N, Grauso L, Yanaka N, Mariggiò S. (2014) The emerging physiological roles of the glycerophosphodiesterase family. FEBS, 281: 998-1016

Ciminiello P, Dell'Aversano C, Dello Iacovo E, Fattorusso E, Forino M, Grauso L, Tartaglione L. (2012) Stereochemical studies on Ovatoxin-a. Chem. Eur. J., 18: 16836 – 16843

Ciminiello P, Dell'Aversano C, Dello Iacovo E, Fattorusso E, Forino M, Grauso L, Tartaglione L. (2012) High Resolution LC-MSn Fragmentation Pattern of Palytoxin as Template to Gain New Insights into Ovatoxin-a Structure. The Key Role of Calcium in MS Behavior of Palytoxins. Journal of the American Society for Mass Spectrometry, 23(5): 952-963

Ciminiello P, Dell'Aversano C, Dello Iacovo E, Fattorusso E, Forino M, Grauso L, Tartaglione L, Guerrini F, Pezzolesi L, Pistocchi R, Vanucci S. (2012) Isolation and Structure Elucidation of Ovatoxin-a, the Major Toxin Produced by Ostreopsis ovata. JACS, 134(3): 1869-1875

Ciminiello P, Dell'Aversano C, Fattorusso E, Forino M, Grauso L, Tartaglione L, Guerrini F, Pistocchi R. (2010) Complex palytoxin-like profile of Ostreopsis ovata. Identification of four new ovatoxins by high-resolution liquid chromatography/mass spectrometry. Rapid Commun. Mass Spectrom, 24: 2735–2744

Ciminiello P, Dell'Aversano C, Dello Iacovo E, Fattorusso E, Forino M, Grauso L, Tartaglione L, Florio C, Lorenzon P, De Bortoli M, Tubaro A, Poli M, Bignami G. (2009) 42-Hydroxy Palytoxin: a new palytoxin analog from Hawaiian Palythoa spp. Chemical Research in Toxicology, 22 (11): 1851–1859

Ciminiello P, Dell'Aversano C, Fattorusso E, Forino M, Grauso L, Tartaglione L, Guerrini F, Pistocchi R. (2007) Spirolide toxin profile of Adriatic Alexandrium ostenfeldii cultures and structure elucidation of 27-hydroxy-13,19-didesmethylspirolide C. Journal of Natural Products, 70 (12): 1878-1883

Ciminiello P, Dell'Aversano C, Fattorusso E, Forino M, Grauso L, Magno GS, Poletti R, Tartaglione L. (2007) Desulfoyessotoxins from Adriatic mussels: A New Problem for Seafood Safety Control. Chemical Research in Toxicology, 20 (1): 95-98