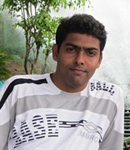 PhD Student
Section EMI
Tel. +39 081 5833201
Fax: +39 081 7641355
e-mail chetan.gaonkar(at)szn.it
Skype: chetan.c.gaonkar
Research interests
The Diatom family Chaetocerotaceae is one of the most diverse in the phytoplankton. Species are characterized by the presence of siliceous spine-like structures called setae, arising from the tips of the cell walls. The family is comprised of two genera, Chaetoceros and Bacteriastrum. Classical taxonomic approaches limit a clear understanding of the species solely based on vegetative morphology observed in light microscopy. Electron microscopic analysis provides clear resolution to differentiate among closely related species. Resting spores can be valuable for species identification as well. My research involves exploration of species diversity within this family in the Gulf of Naples, Italy (GoN). I describe species by integrating microscopy with molecular methods. Sequences of marker regions, gathered from the cultured and taxonomically identified species, serve as reference for assessments of species diversity in Next Generation sequencing data gathered from samples taken in the GoN over three seasonal cycles. This approach will provide insights in the occurrence and distribution of species along the seasons and permits in-silico discovery of species new to science. Comparison of morphological and genetic diversity will uncover morphological evolution within Chaetocerotaceae.
Journal Papers
Khandeparker, L., Anil, A.C., Naik, S.D., Gaonkar, C.C. 2015. Daily variations in pathogenic bacterial populations in a monsoon influenced tropical environment. Marine Pollution Bulletin 96: 337-343.

Gaonkar, C.C., Khandeparker, L., Desai, D.V., Anil, A.C. 2014. Development of 18S rDNA gene primers for identification of Balanus amphitrite larvae in water samples. JMBA UK 95: 497-502.

Khandeparker, L., Gaonkar, C.C., Desai, D. 2013. Degradation of barnacle nauplii: implication to chitin regulation in marine environment. Biologia 68: 696-706.