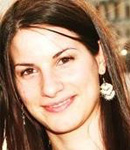 PhD Student
Section BEOM
Tel. +39 081 5833255
Fax: +39 081 7641355
e-mail ylenia.dagostino(at)szn.it
Director of Studies: Dr. Salvatore D'Aniello
Internal Supervisor: Prof. Paolo De Girolamo
Program: PhD in Veterinary Sciences (XXIX cycle), Università Federico II di Napoli
Research interests
Neurotrophins (NT) (BDNF, NGF, NT3, NT4/5 and NT6/7) are important growth factors that control development, differentiation, synaptic plasticity and survival of several types of neuronal and glial cells in the embryonic and adult central nervous system.
Recently, the possible role of a new class of molecules, such as long non-coding RNAs
(lncRNAs), in the regulation of these processes is emerging.
Using Zebrafish (Danio rerio) as model system, I aim to extend my knowledge on the genetic factors and the functional processes of the NT molecular pathways, with emphasis on the characterization of long non-coding RNAs that are involved in their regulation.
To this respect, one of the principal approaches used in my lab is the new CRISPR/Cas9 technology for the generation of NTs zebrafish knockout.
Journal Papers
"miR-181a/b control the assembly of visual circuitry by regulating retinal axon specification and growth."
Carrella S, D'Agostino Y, Barbato S, Huber-Reggi SP, Salierno FG, Manfredi A, Neuhauss
SC, Banfi S, Conte I. (Dev Neurobiol. 2015)