Salta il contenuto e passa al menu a fondo pagina
You are here:
Home

Staff

List of Personnel

Di Cristina Giulia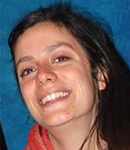 PhD Student SZN-Unina
Section BEOM
Tel.: +39 081 5833281
Fax: +39 081 7641355
E-mail: giulia.dicristina(at)szn.it
Skype: juliedic
Research interests
My phD project is aimed to identify pathways and receptors required for nociception by the cephalopod mollusc Octopus vulgaris. The inclusion of cephalopods – the sole representatives among invertebrates - in the Directive 2010/63/EU is based on a precautionary assumption that these animals are capable of experience pain, suffering, distress and lasting harm. However, scientific data available to support the criteria identified by the Working Party of the Institute of Medical Ethics (WPIME) for the assessment of pain experience in animals are very limited for cephalopods. The existence of a "pain" circuitry in cephalopods has been questioned for decades, and it has been object of very few behavioural and electrophysiological studies. My aim is to investigate some of the WPIME unfulfilled criteria, starting from exploring the presence of nociceptors including those belonging to a putative endogenous opioid system in the nervous system of the cephalopod O. vulgaris using molecular, immunohistological and in-situ hybridization approaches, investigating the presence of receptors.
Journal Papers
Rossano, C., G. Di Cristina, and F. Scapini. "Life cycle and behavioural traits of Dikerogammarus villosus (Sowinsky, 1894) (Amphipoda, Gammaridae) colonising an artificial fresh water basin in Tuscany (Central Italy)." Crustaceana 86.7-8 (2013): 908-931