Salta il contenuto e passa al menu a fondo pagina
You are here:
Home

Staff

List of Personnel

Baldascino Elena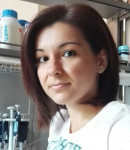 Post Doc
Section BEOM
Tel. +39 081 5833281
Fax: +39 081 7641355
e-mail: elena.baldascino(at)szn.it
Skype: elenabaldascino
Research interests
The aim of my project is to contribute to the development of the production of the common octopus for commercial purposes by applying an organismal biology approach. This represent a current frontier for scientific research since the strategic documents and the new European standards, such as the MSFD and Directive 2010/63/EU recently entered into force in all Member States, strongly oriented scientific research to develop approaches that allow reducing the number of individuals/species caught from the wild to be allocated to scientific research or to enter the food chain. This results in the need to make a strong contribution to the development of approaches, protocols and methodologies of breeding of common octopus and other species of cephalopod used for human consumption. My interest is focused on studies of the biology of behavior and physiology of the animals with the ultimate aim of improving animal welfare conditions and optimize procedures transposable to the artisanal and, possibly, industrial scale. The application to invertebrates - and especially to molluscs and cephalopods - of this approach is innovative.
Selected Publications
Zarrella I, Ponte G, Baldascino E, Fiorito G. (2015). Learning and memory in Octopus vulgaris: a case of biological plasticity. Current Opinion in Neurobiology, 35:74–79