Reference: Graziano Fiorito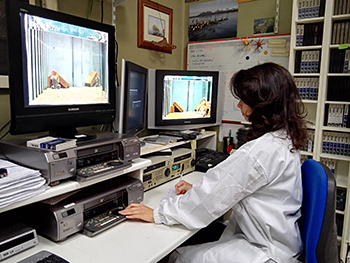 Analysis of the behavior of marine organisms and its adaptive plasticity.
It includes apparata for image and video analysis, video recordings, morphological and morpho-functional analysis of the nervous system and other organs and systems.
Classic and basic biological laboratory equipments are also provided.
Systems for the experimentation
Technologies for the observation and measurement of behavior.
Systems for the morpho-functional analysis.
Anterograde and retrograde transport in nerve fibers. Electrophysiology as applied to nervous system.
Ultrasound and sonography.
Analysis and approaches
Morfo-functional characterization of neural systems as applied to marine invertebrates.
Biological, cellular and physiological analysis of learning and memory recall.
Neural modulation.
Assessment of variability of behavioral responses.
Analysis sensory-motor systems.
Equipment
Ultrasound devices.
Sliding and rotary microtomes, cryostat.
Video cameras and video-recording systems (digital and analogue).